Smoking a brisket this weekend? Not sure what sides to serve? Check out these Brisket Sides that you can enjoy!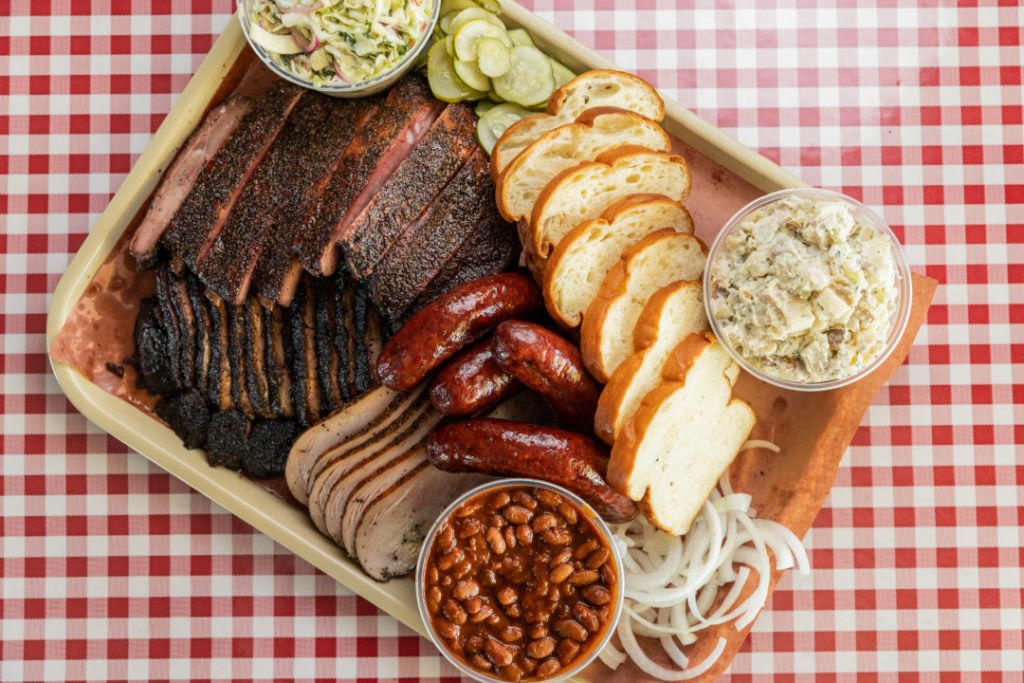 There are a variety of different side dishes for smoked brisket that are easy and delicious to make. Some of the most popular side dishes to serve include baked beans, potatoes, coleslaw, and brussels sprouts.
Smoked brisket is a delicious comfort food that can be served at gatherings with friends and family or for a delicious dinner during the weekend. Smoked brisket typically uses BBQ sauce and onions and is slow cooked until it is nice and tender.
If you are looking for some delicious side dishes for smoked brisket, this collection of recipes includes both traditional sides to some that are a little more unusual.
Brisket Sides
Perfect for summer parties or served as a side dish with your smoked brisket, this creamy potato salad is delicious and easy to make.
Add bacon to this loaded baked potato salad for added flavor.
Beans are always an excellent side to serve with brisket. These beans include bits of cooked pork spare ribs!
Enjoy this simple and creamy mac and cheese recipe made from scratch.
Prefer a baked mac and cheese? Don't miss out on the flavor that's in this baked mac and cheese recipe!
Season up tater tots with cheese and bacon! Use your slow cooker for this yummy recipe.
Try this fresh summer salad with your brisket this summer season!
Green beans always pair well with brisket. This recipe includes garlic seasoned potatoes with the green beans on a sheet pan.
Serve fresh flavored roasted veggies made on a sheet pan.
Pasta salad is a great choice to serve with brisket. This colorful salad is tasty and easy to make.
If you love pasta salad, this pasta salad flavored with bacon and ranch seasoning is another great option to pair alongside your brisket.
Make a mixed salad with a variety of beans!
This bright and flavorful salad includes a variety of fresh ingredients.
This flavorful bread recipe pairs well with brisket! It's served with a delicious and creamy herb butter.