Don't let the idea of cooking mussels overwhelm you! Here are tips for How to Cook Mussels!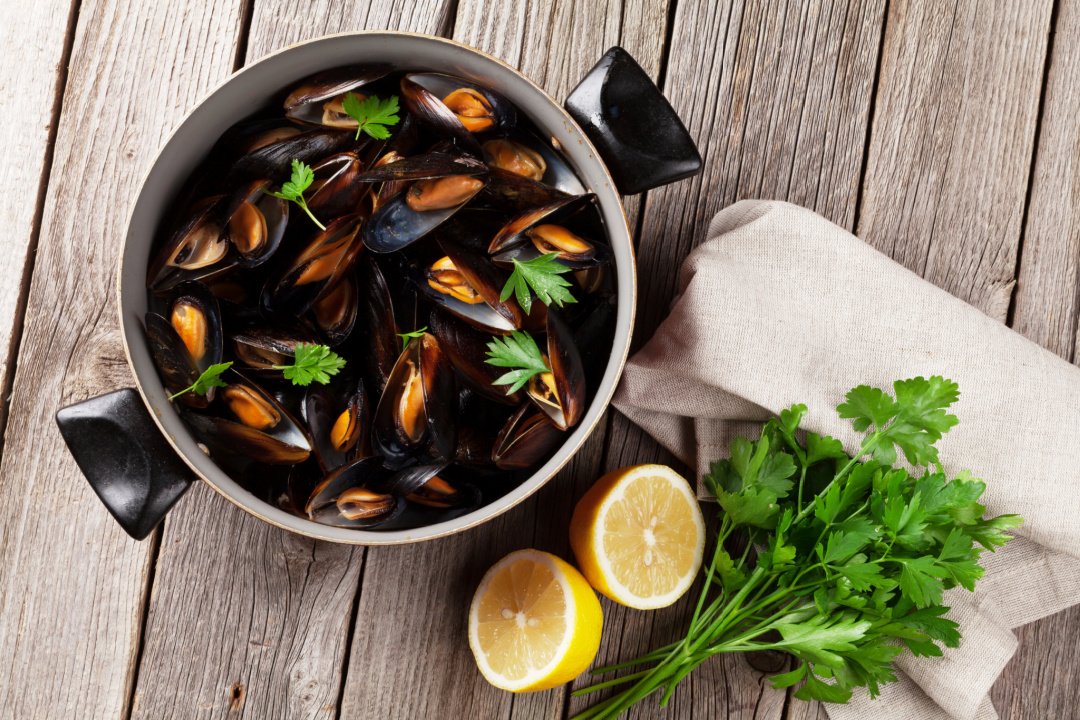 Mussels are a seasonal treat that many people are afraid to even attempt to cook. There seems to be this common misconception that if you really don't know what you're doing, you run the risk of food poisoning. While there is a risk, it's no more than that of beef, chicken, or pork. And, frankly, mussels are far easier to do.
Buy Fresh
I've heard others say that frozen mussels are actually better to deal with than fresh. I presume this is because they think there is a lower risk of poisoning. Actually, frozen may pose a greater risk, as you have no way to know what state they were in before they were frozen. And when have you ever been satisfied that frozen anything is better than fresh?
When Buying Fresh, They Are Alive
If they're not alive, don't ever eat them! This is where the real risk of poisoning is. If they smell really, really fishy, they're probably not very fresh. Really fresh ones smell a little fishy but also quite salty.
To test if they are alive, simply pick one up and tap it on any hard surface a few times. If it slowly closes, it's very much alive and fit to eat. Any you find with big cracks or breaks in the shell, you should probably throw out. Better safe than sorry.
How to Cook Mussels
Wash Them Thoroughly
Running under tap water, wash them against each other for a minute or two. Do the 'tap-tap test' to see they all close before they go into the pan. If they don't close, don't put them in the pan.
Once you've got your pan full of mussels, add about a half-cup or so of cheap white wine. Cover with a lid and turn heat to medium-high. Check them every couple of minutes. They should take 5-10 minutes to cook completely, depending on the size of them.
You'll know they're done when they are pretty much all opened. Any that don't open should not be eaten. All that do are perfect.
Mussels cooked in white wine with garlic and parsley is a simple peasant dish that has sprung to international fame as 'moules mariniere.' Born in the channel ports of north-west France, it spread rapidly throughout that country, up into Belgium, where it is practically a national dish and on through the rest of Europe.
Variations of it are now served just about anywhere that mussels are available, and there are even restaurants devoted to little else. New ingredients, such as cream and brandy, have been added, but the simple classic dish is probably still the best. It is certainly the easiest and is completely foolproof.
This is what you need for four people:
    4 pounds of mussels
    2 French shallots, finely chopped
    2 cloves garlic, finely chopped
    bunch chopped Italian (flat-leaf) parsley
    1 cup good quality dry white wine
    1 tbsp oil or butter
In the US, sealed packages of cleaned, live mussels are now available, which makes the next step redundant. So if that is what you intend to buy, skip all but the last line of the next paragraph.
Carefully scrub the mussels, removing any 'beard' by pulling it clear. Don't worry if a small strip of flesh comes with it; this will not kill the mussel. Discard any mussels with broken shells or ones that fail to close when firmly tapped.
In a large pot with a close-fitting lid, saute the shallots and garlic in the oil or butter until just soft, then add the mussels. Scatter over half the parsley and pour in the white wine.
Bring to the boil, cover, and simmer for five minutes. The mussels will cook in their own steam, releasing more liquor into the mix. This is what makes the 'soup' that the mussels are served in. There is no need to add more liquid.
Divide the remaining parsley between four good-sized serving bowls.
At the end of cooking time, discard any mussels that have failed to open and divide the remainder between the bowls, pouring the liquor over the top. Serve with a side dish of frites (thin French fries) or crusty bread.
If you live where they are available, Muscadet or Gros Plant are the traditional wines to both cook this dish and to drink with it. A dry Chardonnay or Sauvignon Blanc makes a reasonable substitute.
More cooking tips:
How to Butterfly A Lobster Tail