Food poisoning can have devastating effects. Learn how to prevent illness by following the simple cooking procedures below for How to Cook Meat Safely.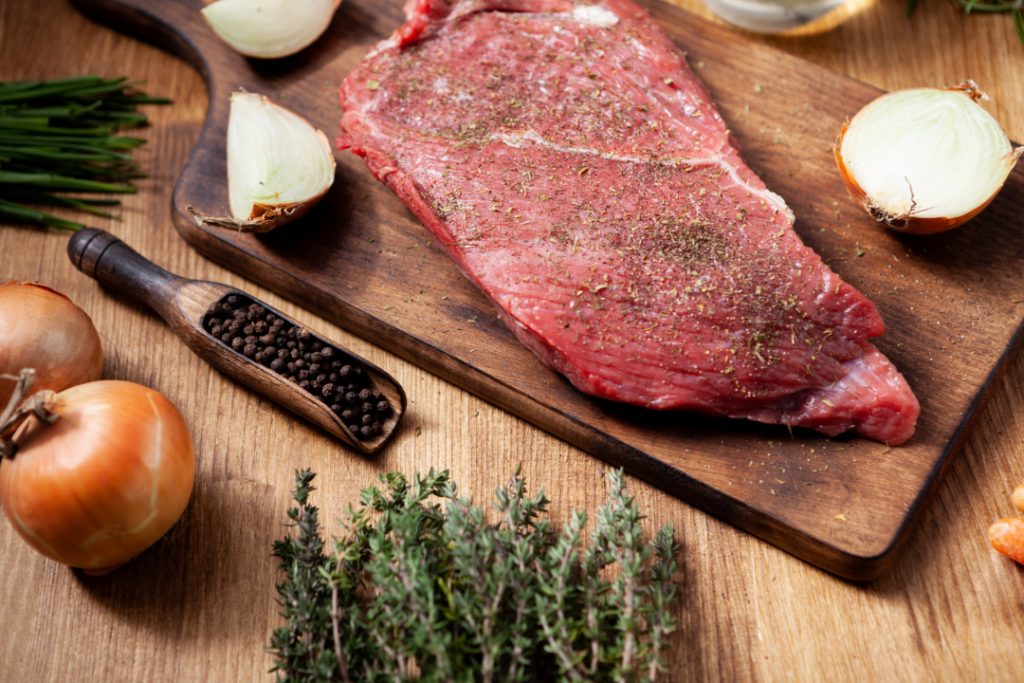 Most cases of food poisoning are preventable. Simple mistakes in the kitchen or at the BBQ are usually the cause. By adhering to proper cooking temperatures and preventing cross-contamination, a foodborne illness can be avoided. Here are some simple steps to keep in mind.
How to Cook Meat Safely
Avoid Cross-Contamination
Cross-contamination occurs when uncooked food comes in contact with food that is ready to eat. When cross-contamination does occur, bacteria from another food source can be ingested. This can happen in many ways in the kitchen.
For example, storing raw ground beef that has fluid leaking from the package on top of a package of processed ham slices could lead to a cross-contamination risk. Using the same utensils to stir raw meat and cooked vegetables is another possible source of contamination.
Here are some rules to follow to avoid this problem.
Store raw meats in a separate drawer. Keep them away from other food.
Have a separate cutting board that is used only for raw meats. Wash and sanitize it after each use.
Keep utensils used on raw meats separate. Wash and sanitize as soon as possible.
If meat is marinated, be sure to discard any leftover marinade.
Do not reuse any plates or bowls that held uncooked meats. They need to be properly washed and sanitized.
Wash hands and any contaminated surfaces after preparing raw meat.
Safe Temperatures for Cooked Meat
Cooking meat to the proper internal temperature ensures that any bacteria that may be present will be killed. People will often overcook meat because they are concerned about the risk of food poisoning. By following the temperature guidelines, the meat will be cooked to a safe temperature but not overdone.
Here is a list of what internal temperatures are required.
chicken – 85°C , 185°F
pork – 71°C, 160°F
turkey – 85°C, 185°F
ground beef – 71°C, 160°F
ground chicken – 74°C, 165°F
ham – 74°C, 165°F
hot dogs – 74°C, 165°F
Taking the Internal Temperature
First and foremost, it is critical to have a meat thermometer in the kitchen. They are not expensive and can be picked up at most department stores and grocery stores.
To take the temperature, remove the meat from direct heat. Use a set of kitchen tongs to lift the meat out of the pan or away from the grill. For larger cuts, such as roasts, take the pan out of the oven before checking the temperature. Insert the thermometer into the thickest portion of the meat. Make sure the thermometer is not touching any bone.
For roast turkey, the temperature needs to be taken in the thigh. For a hamburger patty, insert the thermometer in from the side until it reaches the center. To be sure, take the temperature in several spots. Meat does not always cook evenly, particularly on a BBQ, so be careful to check each individual piece of meat.
Preparing meat for the family can be done safely by following some food safety protocol. Be aware of cross-contamination risks, and always take the time to check that meat has been cooked to the correct temperature.