Are you interested in learning how to prepare and cook scallops? Here are my tips for How to Cook Scallops!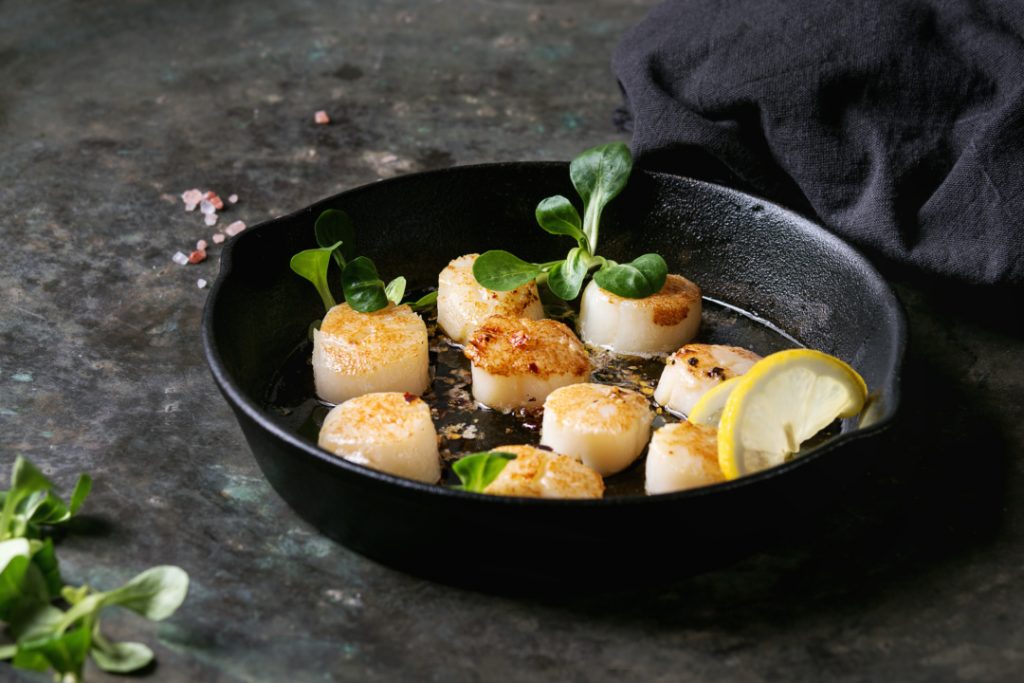 When cooking scallops – as with any form of shellfish – there are two inherent dangers. Firstly, and most importantly, we must make sure that they are fresh and have not "turned."
How to Cook Scallops
Eating shellfish, which has gone bad, can make us very seriously ill or worse. Fresh seafood should smell faintly of the sea, not of what we would associate as fish. Buying from a reputable supplier and eating the scallops on the same day as the purchase is probably the best way in which to tackle this potential problem.
The second thing we have to be aware of is that if we overcook the scallops to the slightest extent, they will assume a texture similar to that of rubber and be quite unpalatable. Most of us are familiar with the unpleasant sensation of chewing upon a piece of overly tough steak; with shellfish, the experience is even more unpleasant.
Bearing the second point particularly in mind, I would recommend that any novice cook – or even anyone cooking scallops for the first time – prepare them in a fashion where the cooking time is definable.
By that, I mean by a method where there is no discretionary judgment required as to when they are ready. A specific occurrence should tell us when the cooking time is over.
The way in which I cook them within the above parameters is by poaching them in milk. Simply put the scallops into a pan and add enough cold milk to ensure they are all covered. Put the pan on to the stove or hob, over medium heat. As soon as the milk reaches a gentle simmer, the scallops are cooked and may be drained and served.
Try using a little of the warm milk to make creamy mashed potatoes as a subtly flavored bed upon which to serve the shellfish. It is also, of course, an option to add some fresh herbs to the milk in which you will poach the scallops but be very careful not to add anything which will overpower the extremely delicate, sweet flavor of your main ingredient! Try instead adding a little dill to the mash only.
If we are considering searing scallops, the best way to do this is on a smoking hot griddle pan. Gently place the scallops onto the pan and cook for twenty to thirty seconds before turning them over to cook on the other side for a similar period of time.
This method gives them an attractive, almost rustic appearance but also naturally carries a far greater risk of cooking them for too long. Fresh scallops are expensive enough without wasting any in preparation. Try serving them on a bed of fresh green salad leaves, perhaps with a very little and subtle herb and extra virgin olive oil dressing.
In conclusion, there is always a difference of opinion as to whether the coral should be eaten as part of the scallop or discarded. The "coral" is basically the orange "tail" attached to the circular main body of the shellfish.
I do eat it, as although it is not quite so flavorsome as the scallop itself, it is far from unpleasant and offers a little bit of variety in the overall eating experience.