Before you stock up on seafood for your next meal, read my Tips for Buying Seafood!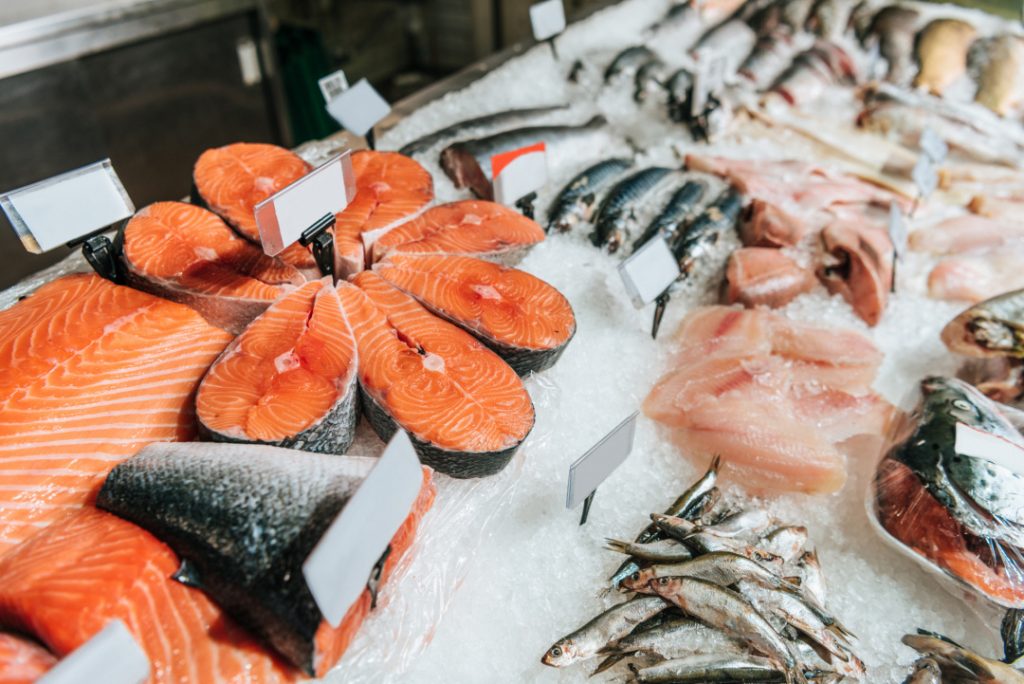 If you aren't lucky enough to live by the sea and buy your seafood straight from the fishing boats, you really do need some basic knowledge of how to buy fish and other seafood. The Norwegians might say that white fish benefits from being left a few days to develop flavor, but my advice is to buy only fresh and eat it quickly.
Depending on where you live, the seafood available in your local fishmonger's or supermarket could be a couple of days old, so it does pay to know how to recognize the freshest produce.
Tips for Buying Seafood
First of all, a simple tip – DO NOT buy fish on a Monday. Fishermen rarely go out on a Sunday, so the fish on sale at the beginning of the week is likely to be from Friday, possibly Saturday, but less likely. Similarly, do not order fish from a restaurant on a Sunday, especially if it appears amongst the specials or in a fish pie or stew – it's likely that the fish has been added to the specials to use up old fish. Even when refrigerated, fish go off more quickly than meat because they are cold-blooded, and their enzymes work at low temperatures.
A fresh fish should not smell fishy – it should smell of the sea, but if it smells strongly of fish, it's not very fresh. Next, look at the eye – the eye should be bright and not bloated. Move onto the gills; they should be bright red. The flesh of a fresh fish will be firm and will spring back into place when you press a finger against it.
For shellfish, it is slightly easier – if you are not a squeamish shopper, what could be fresher than shellfish that is still alive? This way, you are guaranteed that your lobster, crab, or oysters are as fresh as can be. The flesh of shellfish decomposes rapidly, so you should try to get over any hang-ups you may have about buying live shellfish.
For both shellfish and fish, you should ideally eat it on the day of purchase or early into the following day. Do not dismiss the idea of buying frozen fish. Many fishing boats have on-board freezing facilities, so a frozen fish may be as fresh – or even fresher than – some that are described as "fresh."
Find a good fishmonger and talk to him or her; sometimes they are willing to specially buy and cook shellfish such as crab and lobster for people uncomfortable about buying the produce live. Be sure to ask, though, where the food has come from and how old it is.
A good fishmonger is an invaluable friend since buying seafood for a special meal is much more difficult than buying meat. Bad weather may stop particular boats going out, or a trawler may land only one kind of fish that day, and before you know it, your dinner party menu is lacking the main ingredient.
Therefore it pays to learn about the different fish groups and know what substitutes you can make. Sometimes you will see something you don't recognize, and your fishmonger will be able to tell you whether it's suitable for your chosen dish. If in doubt, ask; tell him what you are trying to make, and he will be able to suggest alternative fish if your first choice is not available.
One last tip – a fresh fish should be pliable; there is an old story that says that if you can kiss the tail of a fish, it's not fresh – so pucker up!
More Tips: