Slow Cooker Chicken Enchilada Casserole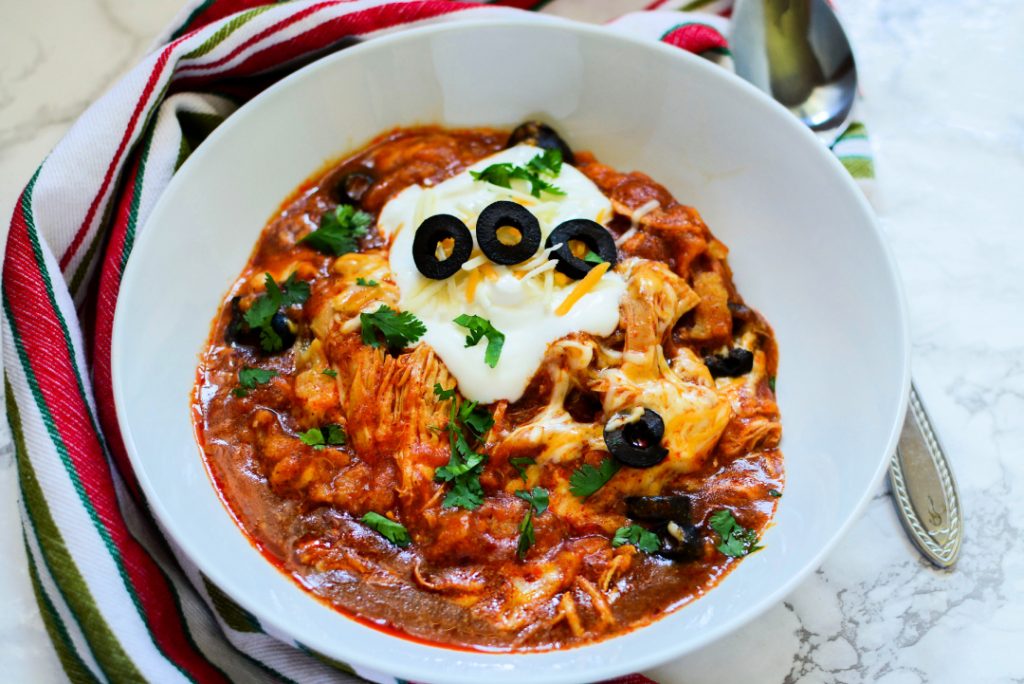 Slow Cooker Chicken Enchilada Casserole
Prep Time: 5 mins – Cook Time on Low: 8 hrs 40 mins – Total Time on Low: 8 hrs 45 mins
Serves 6 to 8
Ingredients:
1.5 lbs. boneless skinless chicken breasts, uncooked (Weigh your chicken. If you use more than 1.5 lbs casserole will be dry)
28 oz. can Red Enchilada Sauce
½ tsp garlic powder
½ tsp cumin
10 corn tortillas (flour tortillas do not work)
2 cups grated cheddar cheese, divided
4 oz. can sliced black olives, divided
Sour cream (optional)
Fresh cilantro (optional)
Directions:
Spray your slow cooker insert with nonstick spray or use a slow cooker liner.
Put the chicken breasts in the bottom of the slow cooker and top with enchilada sauce.
Cook on HIGH for 4 hours or LOW for 6-8 hours.
Shred the chicken in the slow cooker insert.
Cut the corn tortillas into strips and add them to chicken and sauce mixture.
Stir until well coated.
Add 1/2 cup of cheese and half the olives into the chicken and sauce mixture and stir until well coated.
Using the back of a spoon flatten the mixture.
Top with remaining cheese and the rest of the olives.
Cook on low for an additional 45 minutes.
Top with sour cream and chopped fresh cilantro before serving (optional)
Recipe notes:
Corn tortillas are a must for this recipe or you will end up with a gooey mess.
We like to top ours with sour cream and cilantro on the serving plates not in the slow cooker.