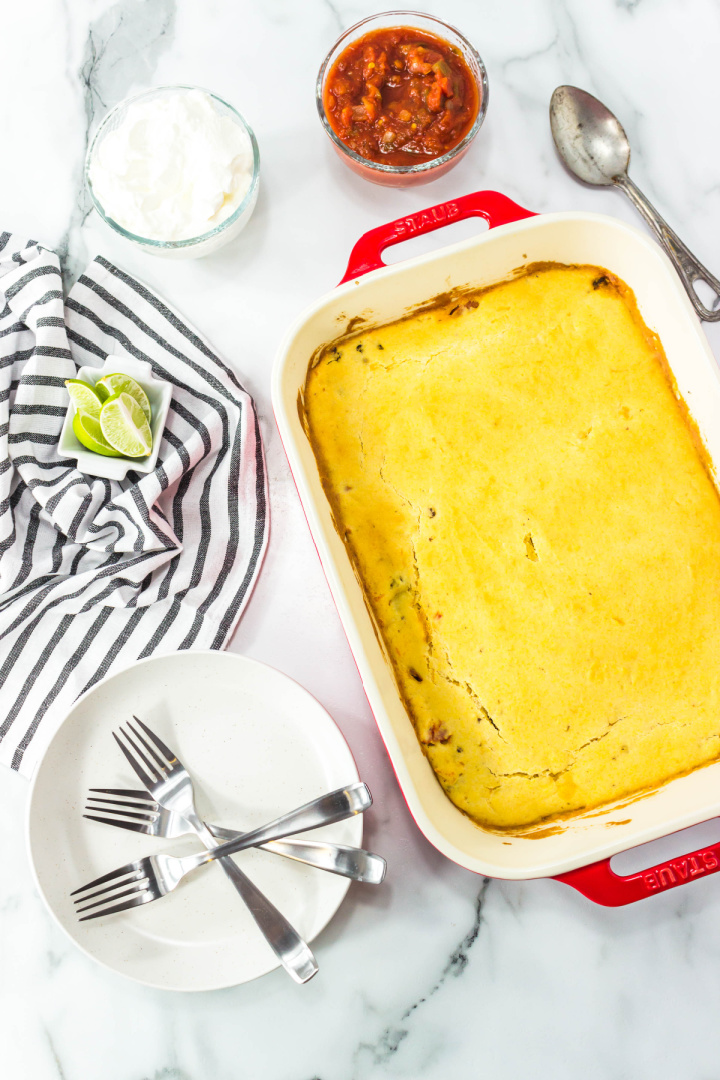 Welcome, food enthusiasts, to a delightful journey through the world of comfort food.
Today, let's explore a dish that is not only satisfyingly tasty but also marvelously easy to create – the Taco Bake Casserole.
This dish is a celebration of flavors, a warm and cozy hug on a plate, an ideal companion for the days when you need an uncomplicated, hearty meal.
Slow Cooker Chicken Enchilada Casserole
So, why Taco Bake Casserole?
There are plenty of reasons why this dish deserves a spot on your weekly menu, but let's begin with its star quality – simplicity.
We live in a busy world, juggling multiple responsibilities and constantly on the go. Time, as they say, is a luxury, and simplicity in the kitchen can be a game-changer.
Preparing a Taco Bake Casserole involves no elaborate techniques or time-consuming processes.
It's a back-to-basics dish that allows you to whip up a delectable meal without feeling overwhelmed or rushed.
When you venture into making this dish, you'll be surprised by how forgiving it is.
Forget precision; Taco Bake Casserole embraces the notion of 'a little bit of this, a little bit of that.'
It can be adjusted to suit your personal preferences, giving you the freedom to experiment without fear of ruining the dish.
This is a huge bonus for those of us who appreciate creative liberty in our culinary adventures.
Another compelling reason to try Taco Bake Casserole is its crowd-pleasing capabilities.
Feeding a group of people can be intimidating. Everyone has their own taste preferences, dietary restrictions, and appetite levels.
This is where Taco Bake Casserole comes to the rescue.
The combination of ingredients is flexible, allowing you to cater to the preferences of your guests without sacrificing flavor or presentation.
It's a one-dish wonder that leaves everyone satisfied and coming back for seconds.
Not only is Taco Bake Casserole great for gatherings, but it also shines as a make-ahead meal for busy weeknights.
Cook once, eat multiple times – it's a time-saving strategy that's a lifeline for many of us.
This dish not only reheats well but arguably tastes even better the next day, when the flavors have had time to meld together.
You can simply prepare it ahead of time and just reheat it when needed.
Let's not forget that this dish has something to offer to every palate. Whether you are a fan of spicy, sweet, tangy, or savory, Taco Bake Casserole can incorporate it all.
It's a symphony of flavors that promises a pleasant surprise with every bite. The dish's versatility also extends to its accompaniments.
You can pair it with a fresh salad, a side of rice, some warm bread, or even just enjoy it on its own.
There's no right or wrong way to savor this dish.
Then there is the textural appeal of Taco Bake Casserole. It's a beautiful harmony of soft, gooey, crunchy, and melt-in-your-mouth.
This blend of textures can take a simple dish from mundane to exciting, teasing the palate and making each mouthful an experience worth remembering.
This dish's inherent simplicity also extends to its clean-up process.
Since it's essentially a one-dish meal, you won't find yourself surrounded by a mountain of dirty pots, pans, and utensils after you're done cooking.
Less clean-up means more time to relax and enjoy your meal, making Taco Bake Casserole an even more appealing choice for those busy days.
Lastly, this casserole could serve as an excellent introduction to cooking for beginners. It offers a safe space to experiment, learn, and grow.
The skills you gain while preparing this dish, such as layering ingredients, seasoning to taste, and baking, are foundational to a lot of cooking.
It's a great place to start if you're new to the kitchen or want to encourage someone else to start cooking.
In conclusion, Taco Bake Casserole is the epitome of comfort food. It's simple to make, delicious, versatile, and most importantly, it brings people together.
It's a recipe that serves as a reminder of what home cooking is all about – creating something hearty, delicious, and comforting from simple ingredients.
So, why not give Taco Bake Casserole a shot?
Whether you are a seasoned home cook or a beginner finding your way around the kitchen, it's a dish that you'll be proud to bring to the table.
Not only will you enjoy its comforting goodness, but you'll also appreciate the joy and simplicity it brings to your cooking experience.
The next time you're looking for a fuss-free, delicious meal, remember the Taco Bake Casserole.
Here's to a dish that celebrates simplicity, tastes like home, and brings joy to the table!
Ingredients:
Casserole Filling:
1 lb ground beef, browned
2 tsp chopped garlic
1 cup frozen corn
1 14oz can diced tomatoes
1 tsp chili powder
1 tsp cumin
1 tsp oregano
1 tsp garlic powder
1 tsp salt
1 tsp paprika
3/4 cup water
Middle:
1 cup shredded taco cheese (Monterey Jack/Cheddar)
Cornbread topping:
1 1/4 cups flour
3/4 cup cornmeal
1/4 cup sugar
2 tsp baking powder
1/2 tsp salt
1 egg, beaten
1/4 canola oil
1 cup milk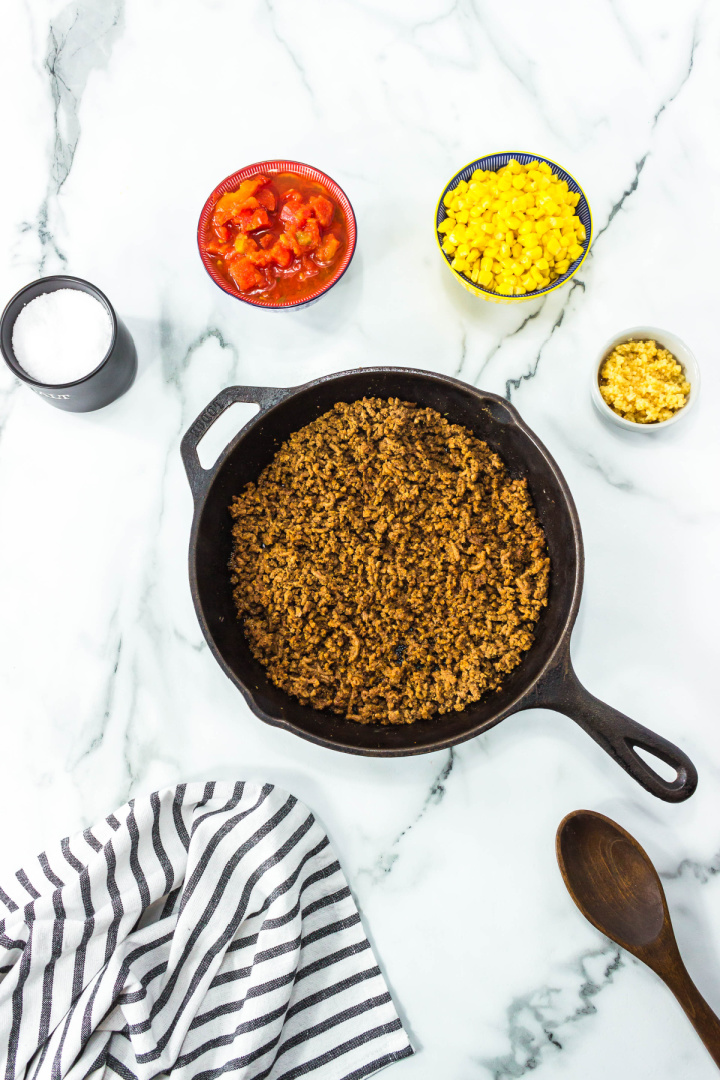 Directions:
Preheat oven to 400 degrees.
Prepare a 9×12 baking dish or similar with nonstick spray.
Add the filling ingredients to a skillet and simmer on stovetop for 15 minutes, stirring often. The mixture will thicken as the juice from the tomatoes cooks off.
Pour the filling into the prepared casserole dish.
Sprinkle the cheese evenly over the top of the filling.
In a bowl, prepare the cornbread batter. Spread over the top of the casserole.
Bake at 400 degrees for 15-20 minutes or until cornbread is cooked through. Cut through to the filling to check for doneness.
Notes:
This recipe does not have processed ingredients. To make it faster, you can replace the 6 spices with 2 Tablespoons of taco seasoning (or one packet). You can also replace the homemade cornbread batter with one from a boxed mix.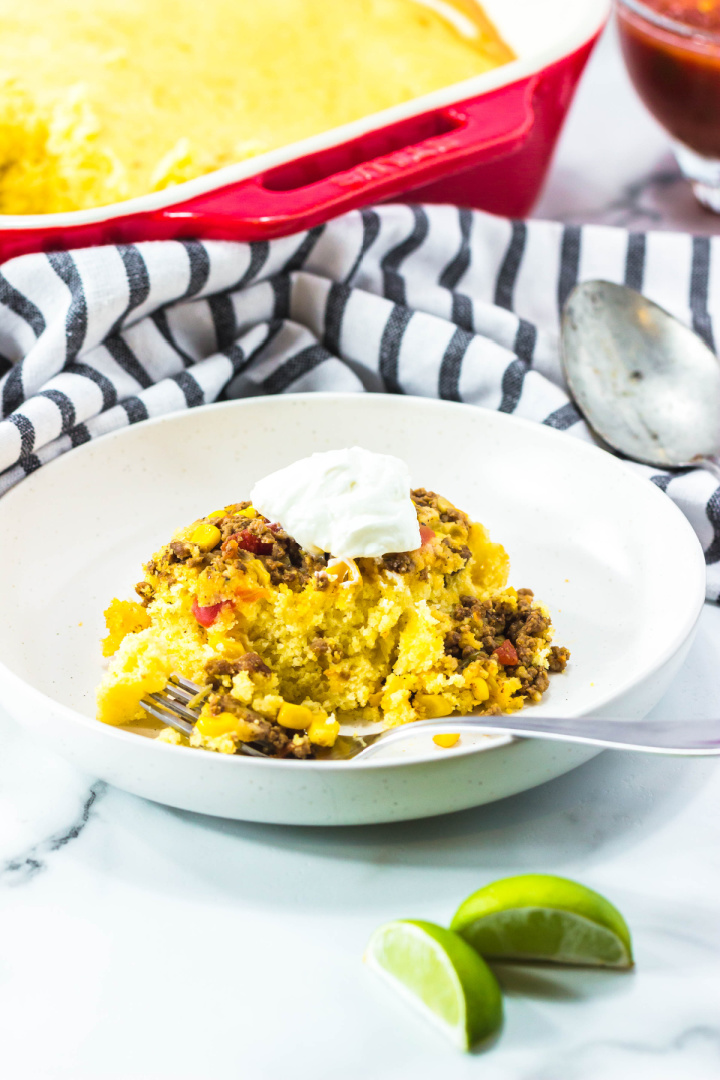 Frequently Asked Questions:
What is the best occasion to make Taco Bake Casserole?
Taco Bake Casserole is perfect for any occasion! It's great for casual family dinners, potlucks, and even special gatherings. It can also be a wonderful make-ahead meal for busy weekdays.
I'm a beginner in cooking, can I still attempt to make Taco Bake Casserole?
Taco Bake Casserole is an excellent dish for beginners. It's a simple and forgiving dish that allows you to learn basic cooking skills such as layering, seasoning, and baking.
I have specific dietary restrictions. Can Taco Bake Casserole be customized?
One of the beauties of this dish is its flexibility. The ingredients can be adjusted to suit your dietary needs or preferences, without compromising on the taste.
Can I prepare the Taco Bake Casserole in advance?
Taco Bake Casserole is perfect as a make-ahead meal. It reheats well and some even say it tastes better the next day, as the flavors have more time to meld together.
I don't like a mess in my kitchen, is Taco Bake Casserole a messy dish to prepare?
No, Taco Bake Casserole is a one-dish meal which means fewer pots, pans, and utensils to clean. The preparation and clean-up process is as simple as the dish itself.
What can I serve along with Taco Bake Casserole?
The dish is versatile and pairs well with various sides. You can serve it with a fresh salad, a side of rice, or warm bread. However, it's hearty enough to be enjoyed on its own too.
Can children eat Taco Bake Casserole?
Kids can definitely enjoy Taco Bake Casserole. However, be mindful of the spice levels and ingredients if you're preparing it for younger children. It's a great dish for the entire family to enjoy.
Will Taco Bake Casserole be too spicy for me?
The beauty of this dish is its flexibility. The spiciness can be easily adjusted to suit your preference. You can choose to add more or less spice according to your taste.