Are you planning to deep fry your holiday turkey this year? Read these tips for How to Deep Fry A Turkey!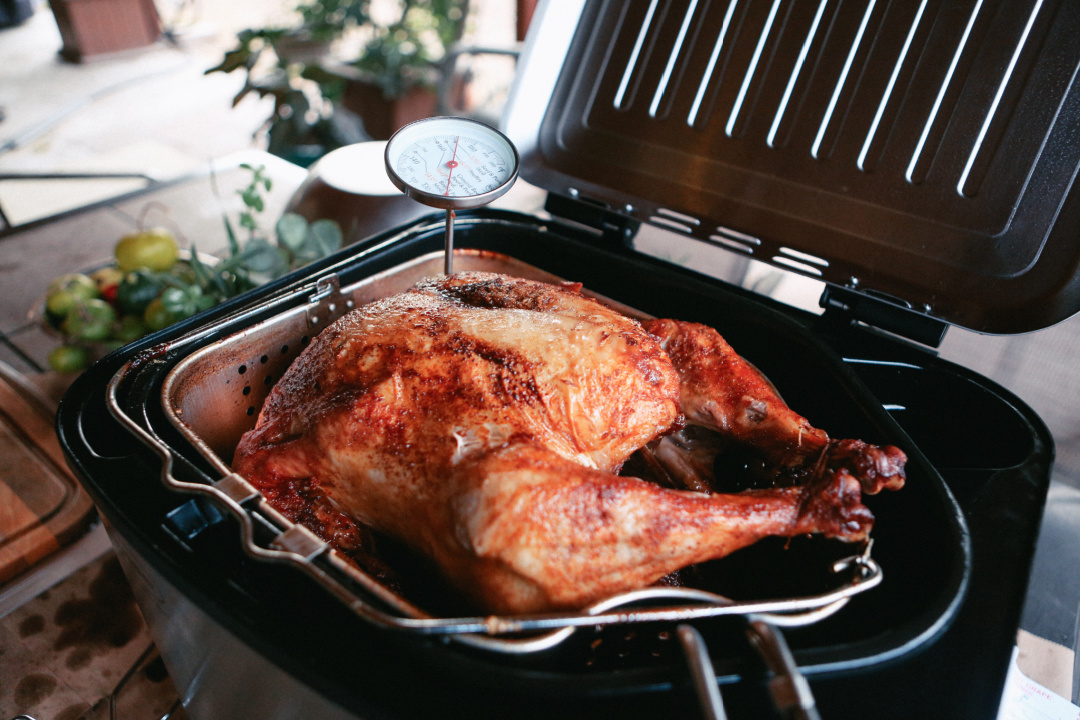 Deep-fried turkey is a longtime tradition in the Southern United States.
This traditional method has been growing in popularity in other parts of the country. This may be due to how quickly you can cook your holiday bird, but with that speed comes some safety issues.
Things to Make With Leftover Turkey
Here are some tips to keep you and your family safe while allowing you to enjoy a moist, delicious turkey in under an hour.
How to Deep Fry A Turkey
Proper Preparation of the Turkey
Your turkey needs to be thoroughly defrosted before cooking. Defrosting your turkey in the refrigerator will ensure harmful bacteria aren't produced. Allow 24 hours for every 5 pounds of turkey, and be sure that your refrigerator is set at 40 degrees Fahrenheit.
Buy a turkey that is the right size for your fryer. Most turkey fryers cannot hold a turkey over 16 pounds. These limits are listed in your turkey fryers instruction manual. If your turkey is too large for your fryer, it can lead to oil spillage or undercooked meat.
If you are soaking your turkey in a brine solution before cooking, pat it dry and let it sit for 30 minutes before cooking. Remove the neck and gizzards from your bird as well as any plastic bindings or pop-up thermometer. Do not stuff your turkey; your stuffing will need to be prepared separately.
Turkey Frying Equipment
Choosing the right turkey fryer is a matter of taste. There are now oil-less infrared and electric turkey fryers on the market. These are considered safer than the traditional propane turkey fryers since they can keep the oil at a safe temperature.
If you opt for a propane turkey fryer, you can either purchase a kit or buy your components separately. If you're just starting out, a turkey frying kit will be your best choice. In your kit, you'll usually get a burner stand unit, a turkey lifter, a poultry rack, a stockpot, and a thermometer. The only thing you'll need is a propane tank.
For safety and to avoid burns, you'll also need a pair of long, heavy oven mitts or a pair of fireplace gloves, a heavy apron, safety glasses, and most importantly, an ABC fire extinguisher.
Safely Frying the Turkey
Place your turkey fryer away from your home, deck, or any building structures. Also, put it on a flat surface. Make sure to keep children and pets away from the turkey fryer and never leave it unattended.
Most manufacturers recommend using peanut oil to fry your turkey because it has a higher flash point which reduces the risk of an oil fire.
Which Oil is Best to Use When Cooking
To determine how much oil you need, after the turkey has thawed, put it on the poultry rack and put it in the empty stockpot. Fill the stockpot with water to cover the entire bird. Remove the turkey and rack and measure the water, do not use any more than this amount of oil. This is an essential step to ensure you don't overfill your pot with oil which can cause a grease fire.
The optimum frying temperature for a turkey is 350 degrees Fahrenheit. Turn the flame off before slowly lowering the turkey into the oil. By turning off the gas, you ensure none of the oil will accidentally hit the open flame.
Allow your turkey to cook for 3 ½ minutes per pound. When the turkey is done, turn off the fire before carefully removing the turkey from the stockpot. Allow the excess oil to drip off into the stockpot, and let the turkey rest for at least 30 minutes before carving.
As you can see, there's not much to frying a turkey. By following these tips and playing it safe, you can enjoy this southern favorite not just during the holidays but all year long.
More Turkey Tips:
Best Wines to Drink With Turkey