Trying to figure out which bottle of wine to serve your guests with your holiday turkey this year? Here are the Best Wines to Drink With Turkey!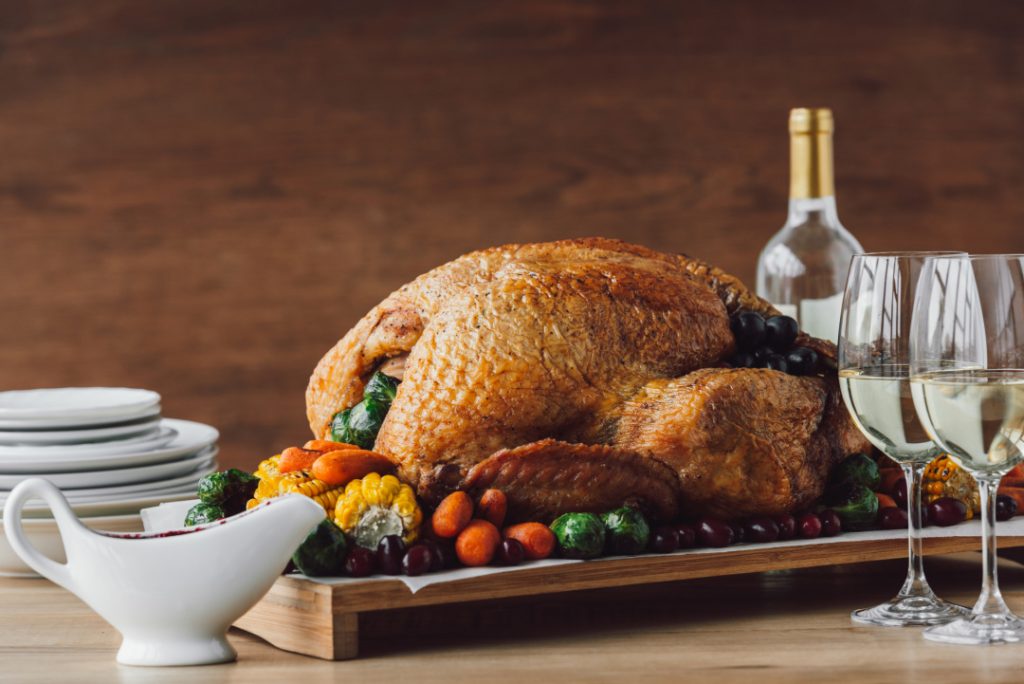 Well, it is now the season when great family feasts are being prepared around that grand American bird, the roast turkey.
Nowadays, the famous Thanksgiving or Christmas turkey can be brined, injected, or even deep-fried, and side dishes can range from the traditional to the exotic. So, is there really an ultimate wine choice that will go perfectly with turkey?
To the delight of many and the disappointment of some, turkey is a rather lean, neutral-tasting meat. However, it takes flavor well and can be enhanced by an amazing variety of stuffing. You could take your turkey on a trip to Tuscany with brine or rub of Italian seasonings and stuffing of dried Italian bread, sun-dried tomatoes, and artichoke hearts or Cajun seasonings with cornbread fig, and Taso ham for a completely different taste experience. Don't be confused; just be hungry, and rest assured that wine will enhance whatever choice you make!
Shop Wines:
Best Wines to Drink With Turkey
For the traditional All-American holiday feast, the best all-around choice may be Chardonnay for several reasons.
Chardonnay
Firstly, everyone likes it. Chardonnay is by far the most grown and most popular grape varietal for white wine.
Next, you may want to consider whether you would prefer an oaked or unoaked wine. Aging Chardonnay in oak tends to give the wine a bit of creamy richness with notes of butter and vanilla. This will go extremely well, with buttery mashed potatoes, gravy, and the traditional holiday herbs and spices, such as sage, thyme, nutmeg, and onion.
Unoaked Chardonnay, usually aged in steel before bottling, tends to retain its fruity and slightly crisper characteristics. This can be very nice when there is a potluck theme to the dinner, with dishes brought to the table by friends and family. A Chardonnay with a little crisp acidity will act as a palate cleanser and prepare you to enjoy the nuances of each new dish.
The choice is strictly up to you, but why not have several bottles of both? It's a great way to compare the two most popular styles.
Sauvignon Blanc
If light and crisp is the way you want to go, Sauvignon Blanc might be the right wine choice for you. If you have lighter fair, with salads and fruit-driven dishes, Sauvignon Blanc is famous for its green apple crispness and notes of citrus and stone fruit. If your table includes Waldorf salad, fried apple rings, and candied sweet potatoes, this may be an excellent choice. It is fresh enough to cleanse the palate and give a slight mouth-watering feeling. But this wine will certainly work with your turkey.
The hotter the climate, like California and Chile, the fruitier the Sauvignon Blanc, but offerings from cooler climates like New Zealand or France will have a more crisp feel.
Dry and Easy-Drinking Wines
White Wine
There are a number of great white wines to try but stick to dry and easy-drinking wines. For the adventurous, try some great dry whites from Alsace, like Pinot Gris, Riesling, or Pinot Blanc. Italy boasts many delicious whites such as Pino Grigio, Vernaccia or Orvieto.
It's always nice to include some regional dishes with regional wines like cauliflower with Gruyere and Spatzel with your Alsace wines, or Rosemary roasted potatoes or four-cheese pasta with your Italian whites. All these wines will be great with a classic turkey dinner; it may be fun to have a variety just to see which your guests like best.
Red Wine
Most red wines will tend to overwhelm turkey unless you are doing it up big and bold. As outdoor deep-frying of turkey is becoming increasingly popular, a rich, deep-fried Cajun spiced turkey would be great with a lighter red wine.
Try a velvety Pinot Noir or red Zinfandel. This might just be the way to go if you are doing a good old Southern-style comfort food meal, with buttery biscuits and that bit of salt pork or country ham in your vegetables.
Red wine goes with rich foods and fats (Come on, it's the holidays!). But put away your Cabernet sauvignons, Merlot, and other big red wines for steak night. Heavy tannic wines will blow your poor turkey away.
But even if your turkey hasn't taken a turn in the deep fryer, there is one red wine that may be ideal. That is Beaujolais.
Made from the Gamay grape, it is refreshing and fruity and very low tannin. It goes famously well with root vegetables and is a friendly, gulpable mouthful. Though they come from France, they can be quite reasonable. The best example will have "Beaujolais Villages " on the bottle. This is a great choice to have on hand for the red wine drinkers at your table.
Tips for Serving the Wine
Be sure to serve your white wine crisp and cold. For perfect results, keep them in the refrigerator, and then take them out for ten minutes to bring them to about 55-degrees F. Then serve them on ice. Chill the Beaujolais as well, but serve them uniced. Your house will be warm from the cooking and good feelings, so it's not a bad idea to refresh your Beaujolais in ice from time to time, just so the bottle stays cool to the touch.
Be sure to have some soft drinks, sparkling water, and beers for those who want them, and keep them handy in a cooler so that people can help themselves. The host and hostess have worked hard enough to put this feast together!
Wine is a fantastic beverage and enhances the enjoyment of good food. Wine and food are really about choices, so how are you going to know what you like until you try them? As a devoted wine drinker, these suggestions should make the flavors pop in your mouth throughout the holidays.
More Turkey Tips: