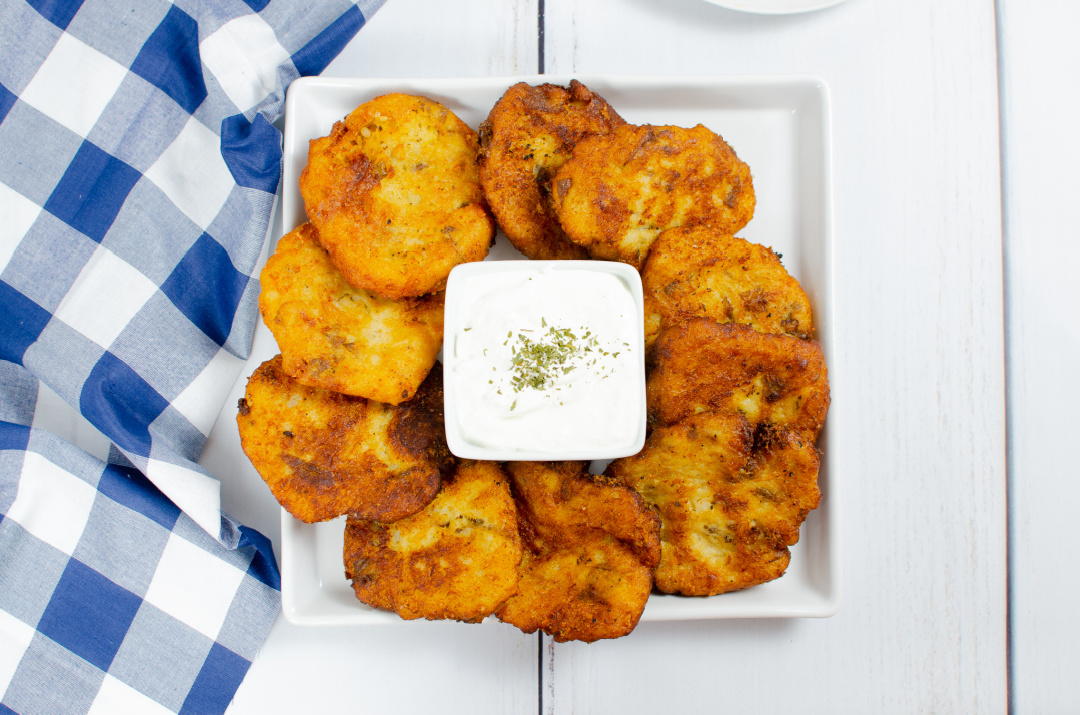 Mashed Potato Pancakes: A Comforting Classic with a Twist
In the wonderful world of comfort food, there's nothing quite like mashed potatoes.
Creamy, fluffy, and oh-so-delectable, this dish has been a favorite for countless years.
However, there comes a time when even the most cherished recipes need a little twist, a dash of excitement to breathe new life into them.
Enter: Mashed Potato Pancakes.
A beautiful blend of beloved mashed potatoes with the crispy, pan-fried goodness of a pancake.
Loaded Mashed Potato Casserole
Why Mashed Potato Pancakes?
Many of us often find ourselves with leftover mashed potatoes after a big family dinner or holiday feast.
Instead of reheating them for a less-than-fresh experience or letting them go to waste, Mashed Potato Pancakes provide an exciting and delicious alternative.
These pancakes take all the creamy goodness of mashed potatoes and elevate them to a new dimension with a crispy outer layer.
Think of it as a duet of textures: the familiar comfort of the mashed potato combined with a slightly crunchy exterior that makes every bite a delight.
Adding the Right Ingredients
The magic of these pancakes lies in their simplicity. With just a handful of ingredients, each one plays a critical role:
Cheddar Cheese: This ingredient brings a sharp tanginess that contrasts beautifully with the neutral flavor of the mashed potatoes. It melts into the pancake, creating pockets of cheesy goodness.
Parsley: Although it might seem like a minor ingredient, parsley adds a fresh burst of color and a hint of earthiness to the mix.
Egg: This acts as the binding agent, ensuring that our pancakes hold their shape as they sizzle away in the pan.
All-purpose flour: If your mashed potatoes are a tad too thin, flour acts as the savior, lending its thickening power.
Salt: A touch of seasoning to enhance all the flavors.
Pairings and Serving Suggestions
Mashed Potato Pancakes are incredibly versatile.
Their subtle flavors mean they can be paired with a wide variety of condiments.
Some prefer the cool, tangy embrace of sour cream, while others might opt for the tang of ketchup or the fiery kick of hot sauce.
However, one of the beauties of this dish is that it's perfectly satisfying on its own.
A Recipe for All Occasions
Whether you're planning a lazy Sunday brunch, searching for an inventive side dish, or simply seeking a novel way to use up leftovers, Mashed Potato Pancakes fit the bill.
Moreover, they're relatively quick to prepare.
A few minutes on the skillet and these golden-brown delights are ready to be savored.
The frying process is straightforward, with the main thing to remember being the importance of letting them rest on a paper towel post-cooking.
This ensures they remain crispy by soaking up any excess oil.
A Staple with a Modern Spin
Recipes evolve over time, adopting new ingredients, techniques, and presentations. It's how we keep the culinary world fresh and exciting.
However, there's something special about taking a well-loved classic and giving it a gentle nudge into new territory.
Mashed Potato Pancakes do just that. They're familiar yet new, comforting yet exciting. A dish that pays homage to its origins while confidently staking its own claim in the culinary landscape.
In the grand tapestry of comfort food, these pancakes have earned their spot.
So, the next time you're looking to transform those leftover mashed potatoes or simply want a delicious dish that combines the best of two worlds, remember this recipe.
Simple, savory, and sure to please.
Mashed Potato Pancakes
Ingredients:
vegetable oil, for frying
2 1/2 cup mashed potatoes
1/2 cup shredded cheddar
1 large egg, beaten
1 tbsp. finely chopped parsley
1/2 tsp. salt
all-purpose flour (optional)
sour cream, for serving
Directions:
Over medium heat, add enough oil to a large skillet to cover at least half of the pancake.
In a bowl, mix together the mashed potatoes, beaten egg, cheese, and salt together. If your mashed potatoes are a little thin, add flour 1 TBSP a time so they stay together while cooking in the skillet.
Take a scoop of each mixture, then flatten.
Cook on one side until golden brown (about 2 minutes), then flip to cook the other side (another 2 minutes).
Once done cooking, place on a paper towel to allow the oil to soak up from the pancake.
Serve with sour cream, ketchup, hot sauce, or it is delicious on its own! Enjoy!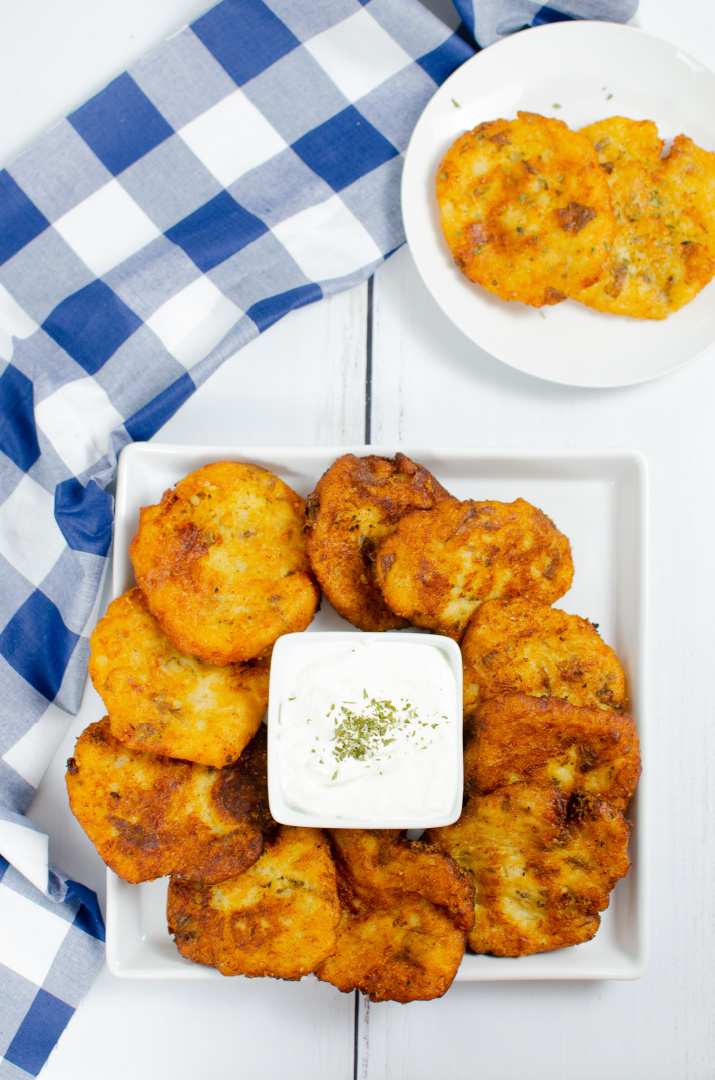 Frequently Asked Questions
Can I use sweet potatoes instead of regular potatoes?

Absolutely! Sweet potatoes can offer a slightly different flavor profile with a hint of sweetness. If you do choose sweet potatoes, you might want to adjust the seasoning to balance the flavors.

How can I store leftover Mashed Potato Pancakes?

Store them in an airtight container in the refrigerator for up to 3 days. When you're ready to eat, reheat them in a skillet or oven to retain their crispiness.

I'm gluten-free. What can I use instead of all-purpose flour?

You can use a gluten-free flour blend or even cornstarch as a thickening agent.

Can I add other herbs or spices to the mix?

Of course! Feel free to get creative. Some good additions might be chives, rosemary, or even a touch of garlic powder for added flavor.

What other cheeses can I use apart from cheddar?

While cheddar provides a tangy sharpness, other cheeses like mozzarella, Gouda, or even feta can be used. Just be mindful of the melting qualities of the cheese you choose.

Can I bake the pancakes instead of frying?

Yes, you can. Place the pancakes on a lined baking sheet and bake in a pre-heated oven at 400°F (200°C) for about 10-15 minutes on each side until golden brown.

What if I don't have leftover mashed potatoes?

You can make fresh mashed potatoes for this recipe. Just ensure they have cooled down a bit before making the pancakes.

How can I make them vegan?

Replace the egg with a flax egg (1 tbsp flaxseed meal mixed with 2.5 tbsp water) and use vegan cheese or skip it altogether. Ensure the mashed potatoes you're using are also vegan-friendly.

How can I prevent the pancakes from falling apart while frying?

Make sure your mashed potatoes are not too watery. The egg and flour help in binding, so ensure they're mixed in well. Also, don't flip the pancakes too early; let them form a crust before flipping.

What other dips can go well with these pancakes?
Apart from sour cream, ketchup, and hot sauce, you can also try apple sauce, yogurt dips, or even a tangy tzatziki sauce for a refreshing contrast.
Remember, cooking is as much about experimenting as it is about following the recipe. Feel free to make these pancakes your own, adjusting them to your tastes and preferences. Enjoy!