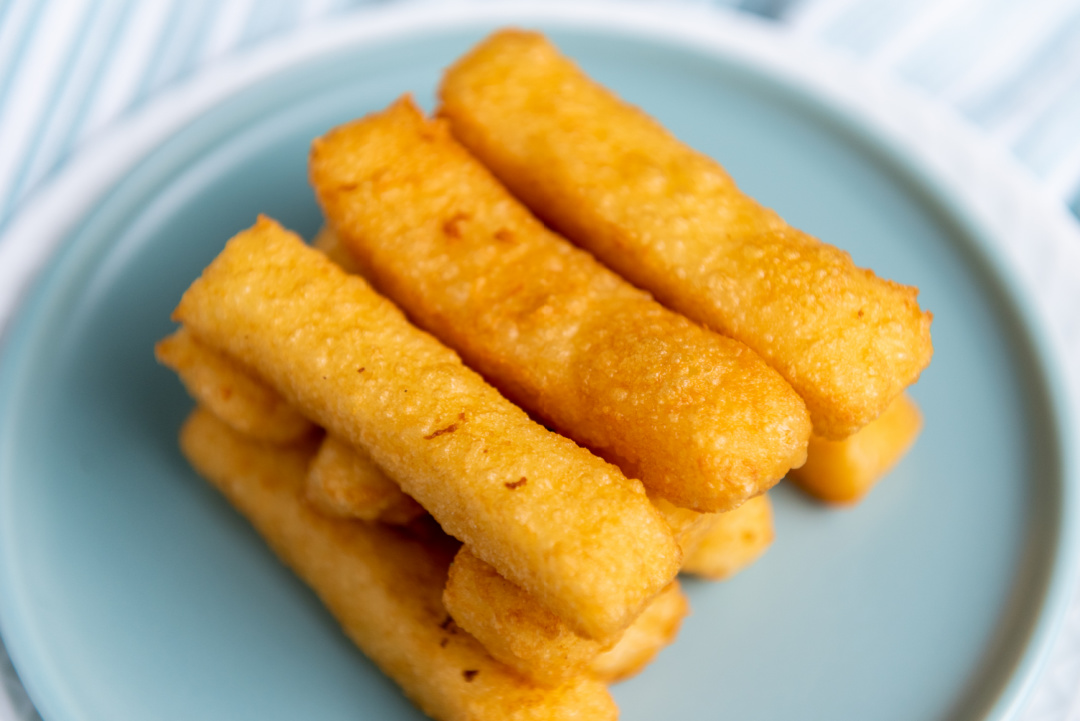 There are a few universal truths in the world of culinary exploration. Simplicity often trumps complexity, comfort food holds a special place in our hearts, and cheese, almost magically, makes everything better.
One recipe that brings all of these elements together is the simple, yet delightful, Cheesy Potato Sticks.
Here, we'll dive into why making these savory treats should be on every home cook's to-do list.
The Humble Potato
At the heart of this snack is the humble potato. This tuber is a staple in households across the globe, and its culinary versatility is a testament to its popularity.
Whether you boil them, mash them, roast them, or fry them, potatoes provide a comforting, hearty base that is both satisfying and filling.
When it comes to Cheesy Potato Sticks, potatoes deliver a satisfying bite and a perfect canvas for the flavors that you wish to impart.
Moreover, potatoes are generally inexpensive and widely available, making them a practical choice for home cooking.
The Magic of Cheese
Adding cheese to potatoes elevates them to an entirely new level.
Cheese, with its creamy texture and rich flavor, acts as a great binding agent for the potato sticks, adding an extra layer of deliciousness to every bite.
In the context of our Cheesy Potato Sticks, the cheese melts during cooking, creating a decadent, gooey center that contrasts wonderfully with the crispy exterior.
The Ease and Simplicity
Perhaps one of the most compelling reasons to make Cheesy Potato Sticks is their simplicity.
The preparation is relatively straightforward, and the cooking process is quick, making them an ideal snack option for those days when you just don't have a lot of time on your hands.
Additionally, the ingredient list is short and uncomplicated. Potatoes, cheese, corn starch, and salt are all it takes to whip up a batch of these delicious snacks.
Most of these ingredients are pantry staples, so you don't have to go out of your way to find them.
Customizable to Taste
While the base of the Cheesy Potato Sticks remains the same, there's a world of flavors and textures you can add to personalize them.
Depending on your preferences, you can experiment with different types of cheeses or add herbs and spices to give them an extra kick.
Perhaps you might fancy some garlic or onion powder, a sprinkle of paprika, or even a hint of cayenne pepper for a spicy twist.
Maybe you prefer to mix in some finely chopped chives or parsley for a pop of freshness.
The beauty of this recipe lies in its flexibility, allowing you to make a dish that suits your specific taste.
Perfect for All Occasions
Cheesy Potato Sticks are not only easy to make, but they're also suitable for virtually any occasion.
Need a quick snack while working or studying? These sticks are perfect.
Planning a game night with friends? They're an excellent choice. Looking for a comforting snack on a cold evening? These potato sticks will warm you right up.
Their portability makes them a great on-the-go snack, and their satisfying, savory nature makes them a hit at parties and get-togethers.
You can also pair them with a variety of dips and sauces, adding even more variety to your snack.
A Therapeutic Experience
There's something incredibly therapeutic about cooking – it can be a time to unwind, to be creative, and to enjoy the simple pleasures of making something from scratch.
Making Cheesy Potato Sticks can be a fun and relaxing experience.
There's a certain satisfaction in peeling and grating the potatoes, mixing in the cheese and seasonings, shaping the mixture into sticks, and finally, frying them until they're perfectly golden and crispy.
Conclusion
In a world where we are constantly bombarded with complex recipes and exotic ingredients, it's nice to return to something simple and comforting like Cheesy Potato Sticks.
Their simplicity, coupled with their versatility and deliciousness, makes them a worthy addition to any home cook's repertoire.
While they may be simple in nature, they're far from boring. The crispy exterior encases a soft, cheesy center, offering a contrast in textures that is sure to delight.
The ability to customize them to your liking adds an element of creativity, allowing you to experiment with different flavors and ingredients.
Above all, making Cheesy Potato Sticks is a testament to the joy of cooking. It's about appreciating the process and finding contentment in the simple act of creating something delicious.
So, the next time you're in the kitchen, consider whipping up a batch of these comforting, cheesy snacks. You might just discover your new favorite recipe.
Ingredients:
1 lbs. potatoes (Russet or golden potatoes)
½ cup corn starch
½ cup shredded cheese (I used Gouda, but you can use any kind)
Salt, to taste
Directions:
Start by bringing a pot of water to a boil.
Peel and wash your potatoes.
Medium dice your potatoes.
Cook the potatoes in boiling water for about 12-15 minutes, or until fully cooked.
Remove them from the pot and let them drain until all water is drained.
Then mash your potatoes by pushing them through a strainer.
Add the cornstarch, cheese, and a pinch of salt to the mashed potatoes and mix until well combined.
Place the mashed potatoes in a Ziplock bag and flatten the mashed potatoes with a rolling pin, and freeze for about 1 hour.
Carefully cut open the Ziplock bag to keep the mashed potatoes intact.
Cut your sticks by cutting them in half first, and then smaller sticks.
Heat a pan with at least 1 inch of oil and wait until it has reached 350 degrees Fahrenheit.
Once your oil is hot, fry your potato cheese sticks in batches for about 2-3 minutes. Make sure your pan is not too crowded.
Place them on a plate with kitchen towel, so it will absorb most oil.
Serve while hot with your favorite dip sauce.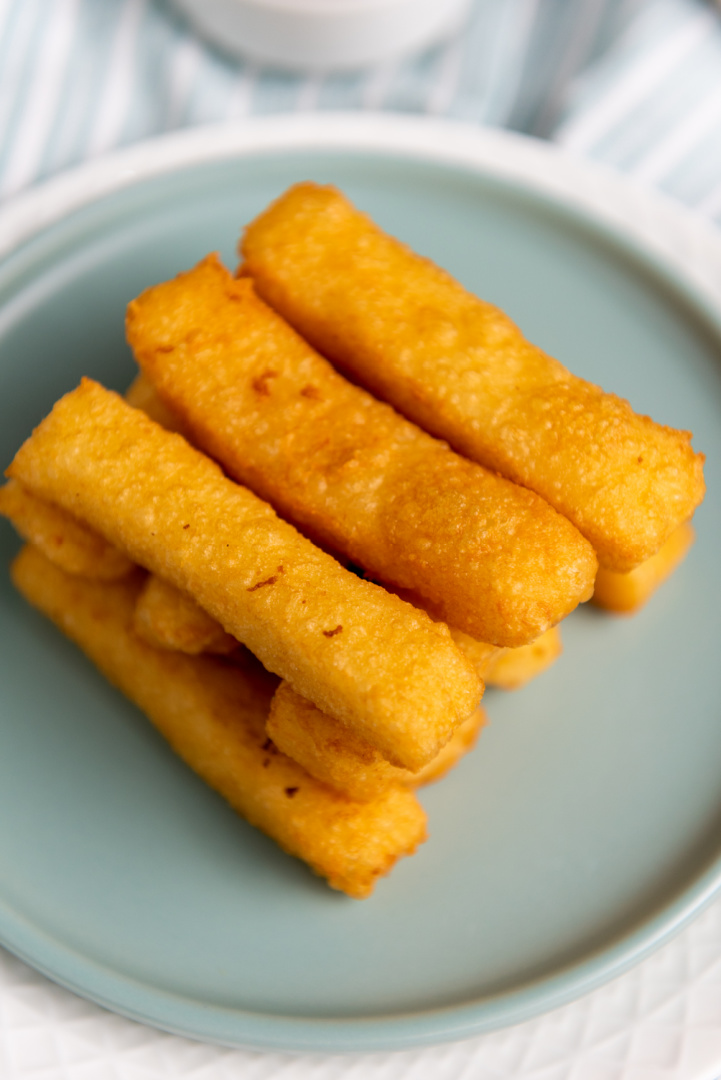 Frequently Asked Questions:
What are Cheesy Potato Sticks?
Cheesy Potato Sticks are a type of snack made from grated potatoes and cheese. The ingredients are mixed together, shaped into sticks, and then fried or baked until crispy.
What type of cheese is best for Cheesy Potato Sticks?
You can use a variety of cheeses depending on your taste preference. Cheddar, mozzarella, Monterey Jack, or Colby are excellent choices as they melt well and give a rich flavor. Feel free to experiment with your favorite cheeses.
Can I bake Cheesy Potato Sticks instead of frying?
Yes, you can definitely bake Cheesy Potato Sticks if you're looking for a healthier alternative. Just preheat your oven to around 200 degrees Celsius (around 400 degrees Fahrenheit), arrange the sticks on a baking sheet, and bake until golden and crispy.
How can I add more flavor to my Cheesy Potato Sticks?
While the base recipe is quite simple, you can customize your Cheesy Potato Sticks by adding herbs, spices, or even finely chopped vegetables. Consider adding garlic powder, onion powder, paprika, or a dash of cayenne pepper for some heat. You could also mix in some chopped chives, parsley, or even spinach for added nutrition and flavor.
How long will Cheesy Potato Sticks last, and how should I store them?
Cheesy Potato Sticks are best enjoyed fresh, but if you do have leftovers, you can store them in an airtight container in the refrigerator for up to 3-4 days. To reheat, you can use an oven or toaster oven to restore their crispiness.
Can Cheesy Potato Sticks be made ahead of time?
Absolutely! You can prepare the mixture, shape the sticks, and store them in the refrigerator a day in advance. Just be sure to cover them well to prevent the potatoes from discoloring. When you're ready to serve, simply fry or bake as directed.
Can I use sweet potatoes instead of regular potatoes?
Yes, you can use sweet potatoes to make Cheesy Potato Sticks. The process is the same, but keep in mind that sweet potatoes have a distinct flavor and softer texture, which will result in a slightly different taste and feel.
What can I serve with Cheesy Potato Sticks?
Cheesy Potato Sticks can be served with a variety of dips and sauces. Ketchup, mayonnaise, barbecue sauce, or a spicy salsa all make great pairings. You could also serve them alongside a salad for a light meal.
Can I make Cheesy Potato Sticks vegan?
Yes, you can make vegan Cheesy Potato Sticks by using a vegan cheese substitute and replacing the egg (if used in the recipe) with a vegan binder like flaxseed meal or a bit of cornstarch and water.
Are Cheesy Potato Sticks gluten-free?
This depends on the recipe. If you use flour or breadcrumbs, then the Cheesy Potato Sticks would not be gluten-free. However, you can easily make them gluten-free by using a gluten-free flour or breadcrumb alternative.