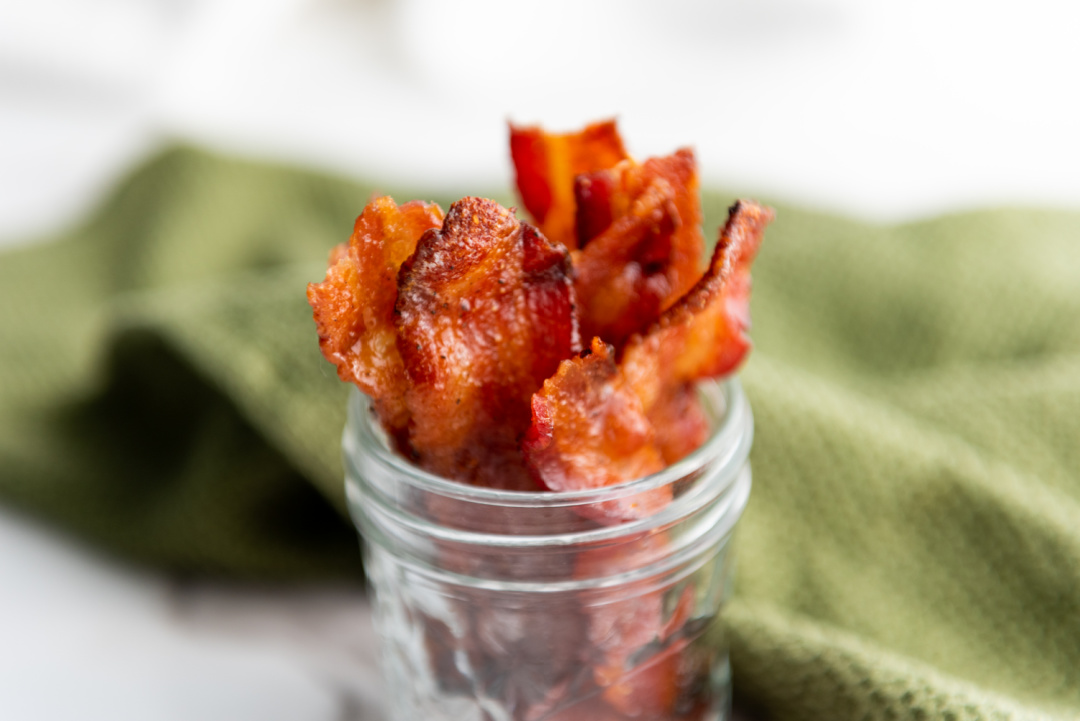 Bacon is a universally loved ingredient, adored for its robust flavor and delightful crisp texture.
But have you ever considered giving this breakfast staple a sweet makeover?
Candying, the process of coating or infusing food items with sugar or sweet syrup, introduces a brand new flavor profile to the bacon.
It's like turning your bacon into a piece of candy, which might sound a bit odd, but the result is a unique delicacy that offers the best of both sweet and savory worlds.
The Magic of Four Ingredients
The preparation of Maple Brown Sugar Candied Bacon is interestingly simple, using just four key ingredients: bacon, maple syrup, brown sugar, and black pepper.
Each of these ingredients plays a crucial role in creating the perfect piece of candied bacon.
The bacon is, of course, the star of the show. It's the canvas onto which the rest of the ingredients paint their flavors.
The choice of bacon can significantly influence the outcome of the dish. The thicker the cut, the better, as it will hold up well during the candying process.
Next comes the maple syrup. Maple syrup is a natural sweetener derived from the sap of the maple tree.
It lends a beautiful, subtle sweetness to the bacon, quite different from the sharp sweetness that common sugars provide.
Plus, it brings a hint of earthiness that complements the bacon's savory flavor.
The brown sugar acts as another sweetening agent, but its role goes beyond just adding sweetness.
When exposed to heat, brown sugar caramelizes, creating a crispy, sugary crust on the bacon. This caramelization process gives candied bacon its characteristic crunch.
Finally, a sprinkle of black pepper rounds off the list of ingredients.
It might seem like a small addition, but this dash of spice provides a contrast that highlights the sweetness of the dish.
It's like a pinch of salt on a caramel dessert – it seems counterintuitive, but it works to enhance the primary flavors.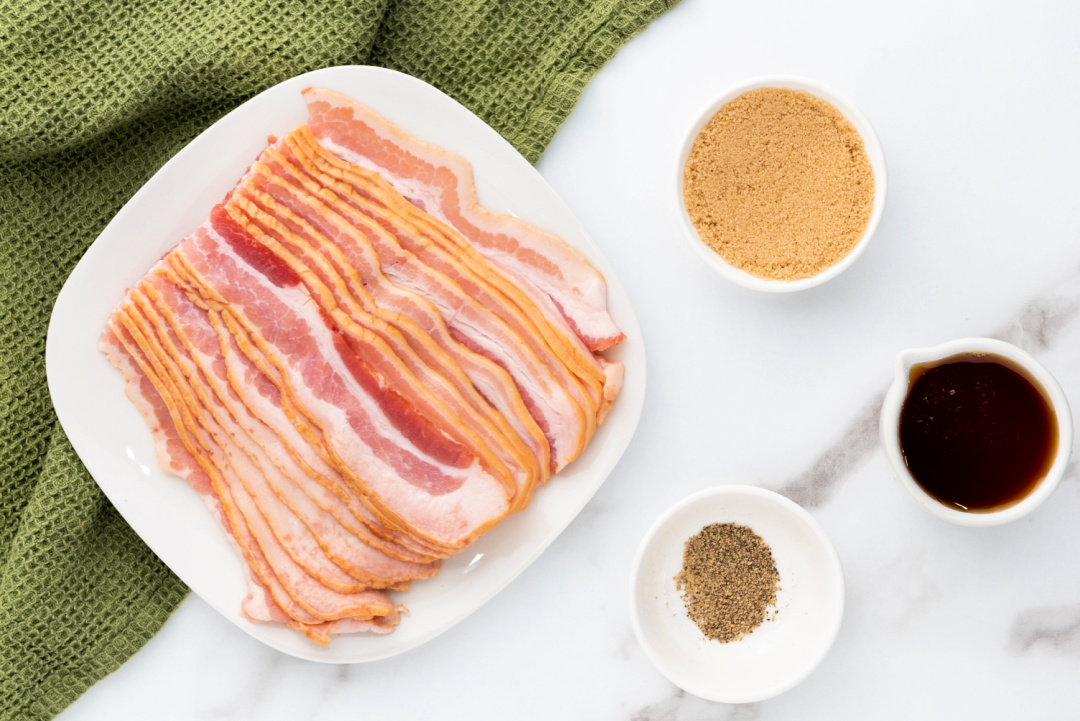 From Bacon to Candied Bacon: The Transformation
When the four ingredients come together, they undergo a transformation in the oven.
The heat works its magic, caramelizing the sugars, crisping up the bacon, and melding the flavors together.
The result is a piece of bacon that's still recognizably bacon, but with an added layer of sweet, crunchy goodness.
It's a testament to the wonders of cooking – how a few simple ingredients can combine and transform into something surprisingly delightful.
Beyond the Breakfast Table
One might wonder where candied bacon fits in the culinary landscape.
Is it a breakfast item, a dessert, or something in between?
The beauty of Maple Brown Sugar Candied Bacon lies in its versatility. It can adapt and fit into many different food contexts.
As a snack, it's an unexpected delight. The sweet-savory combo is addictive, offering a delicious alternative to common sweet or salty snacks.
In salads, candied bacon can replace regular bacon bits, contributing a sweet crunch that pairs well with fresh, crisp veggies.
And let's not overlook its potential in desserts. Candied bacon can be an exciting addition to a range of sweet dishes, from cookies to cakes to ice creams.
It introduces a contrasting savory note that can balance the sweetness and add complexity.
Lastly, it's worth considering as a garnish for cocktails. The richness of the candied bacon can complement the flavors in bourbon or whiskey-based drinks particularly well.
Wrapping Up
Exploring the world of food often leads to surprising discoveries.
The concept of Maple Brown Sugar Candied Bacon might seem strange at first, but when understood and appreciated, it presents an intriguing combination of flavors that can elevate your food experiences.
It demonstrates how a little creativity can transform a familiar ingredient into something new and exciting.
From the choice of ingredients to the cooking process, to the various ways it can be served, every aspect of this dish offers a chance to delve deeper into the world of culinary arts.
So, the next time you're feeling adventurous in the kitchen, remember this intriguing fusion of sweet and savory – it might just become your new favorite.
Ingredients:
½ lbs. bacon
¼ cup maple syrup
2 tbsp. brown sugar
Dash of black pepper
Directions:
Preheat the oven to 400 degrees Fahrenheit.
Line a baking sheet with parchment paper or aluminum foil and spray with nonstick
Cut the bacon strips in half and place on the baking sheet. Do not overlap them.
In a small bowl, mix the maple syrup, brown sugar and black pepper and mix until well combined.
Brush the mixture over the bacon on both sides.
Bake for 18-20 minutes in the oven.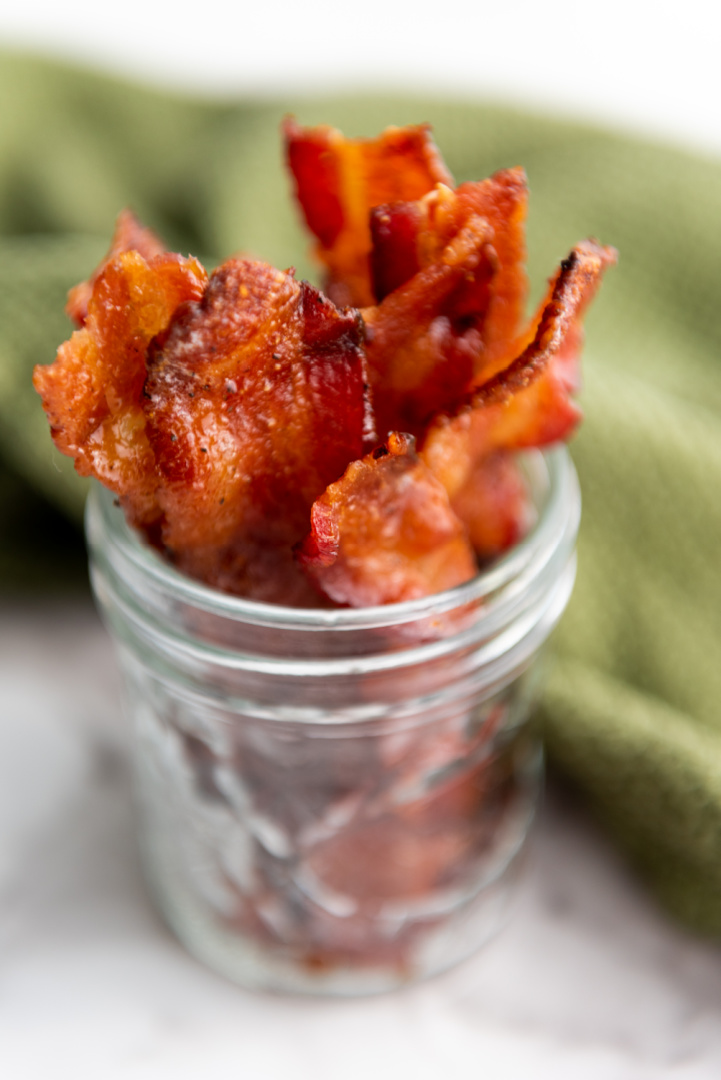 Frequently Asked Questions:
What type of bacon should I use for Maple Brown Sugar Candied Bacon?
You should opt for thick-cut, high-quality bacon. The thickness will help it withstand the baking process without becoming overly crispy or burnt.
Can I use white sugar instead of brown sugar?
You can use white sugar, but brown sugar is preferable due to its molasses content, which caramelizes nicely and gives a richer flavor.
Can I use honey or other syrups instead of maple syrup?
You can use alternatives like honey or agave syrup. However, each sweetener will lend a slightly different flavor profile. Maple syrup is recommended for its distinct and natural sweetness.
Why add black pepper to a sweet dish?
A dash of black pepper adds a slight spicy kick which contrasts nicely with the sweetness, enhancing the overall flavor of the candied bacon.
How can I serve Maple Brown Sugar Candied Bacon?
This candied bacon is highly versatile. You can serve it as a standalone appetizer, a topping on salads, a garnish on desserts, or even as a snack with cocktails.
How long can I store candied bacon?
You can store candied bacon in an airtight container in the refrigerator for up to a week. It's best to reheat it in the oven before serving.
Can I make this dish vegetarian or vegan?
While there's no direct plant-based substitute for bacon that would give a similar result, you can experiment with ingredients like tempeh or coconut bacon for a vegetarian or vegan version. Do note that the texture and flavor will be quite different.
Can I prepare Maple Brown Sugar Candied Bacon in advance?
You can prepare it in advance. After it has cooled, store it in an airtight container in the fridge. When you're ready to serve, reheat it in the oven at a low temperature until it's warm and crispy.
What should I do if my bacon isn't getting crispy?
Make sure your oven is preheated to the correct temperature. If the bacon still isn't getting crispy, you can increase the heat slightly or leave it in the oven for a few extra minutes. Be careful to keep a close eye on it to prevent burning.
Can I use this recipe with other meats?
You can use this recipe with other meats. Just remember that cooking times and temperatures may vary depending on the type and thickness of the meat. Always ensure the meat is thoroughly cooked before consuming.