Roasting peppers is an essential step in using them in many recipes. Remove the skins and enhance flavor with any of the following methods for How to Roast Peppers.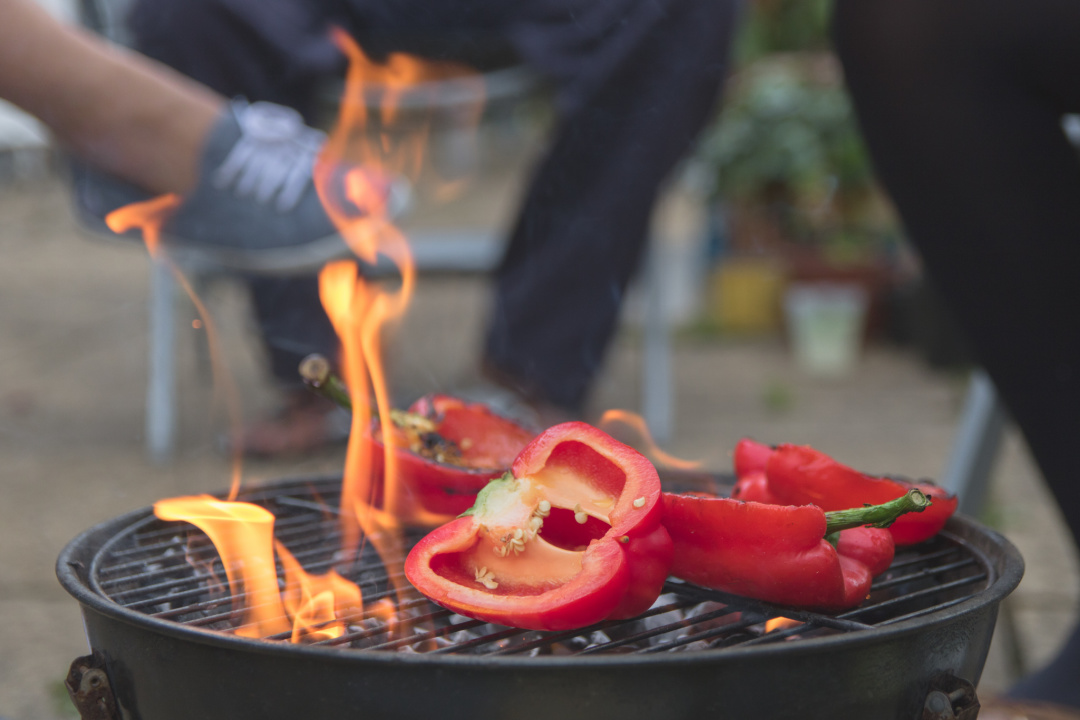 It is a good idea to roast peppers for a variety of reasons. If the meal being prepared can benefit from any of the following improvements, read on to learn more about roasting peppers.
Pepper Skin Removal
Burning the outside of pepper makes removing the pepper skin very easy. Finding pepper skin in a soup or salad dressing can be disappointing as the skins are often papery and nearly impossible to chew. Especially if using green chilis, you will want to roast them for this reason.
Pepper Flavor Enhancement
Roasting a pepper will change and improve the flavor it adds to a meal. Hot peppers will increase in heat, meaning you will need to use fewer of them. Mild peppers will obtain a fuller and warmer flavor and will lose all of their raw and metallic qualities.
Pepper Eye Appeal
Whether the peppers will be used in large pieces or as a garnish, adding some blackening will make them look attractive, and they will, in turn, add interest to the dish that has been prepared.
How to Roast Peppers
While there are some peppers, in some applications, that do not require roasting, a roasted pepper is almost always a good option. Following are some various techniques for roasting peppers.
On the Grill
If any other part of the meal will be cooked on the grill, or if you can roast your peppers ahead of time, this is a very simple option. Roasting peppers outside is ideal because the smoke stays outside too. Roasted peppers do taste good, but they smell more like smoke than like food while they are cooking.
Place the whole peppers directly on the grate over the coals or the gas burner. Medium to high heat will work just fine. Turn the peppers as they blacken and strive for even cooking.
In the Oven or On the Stove
When it's just too cold outside for grilling, peppers can be roasted in the house. If you have a catalytic converter in your oven, this is a great time to use it. If not, you may want the added control of roasting the peppers directly on the stove burner. Gas and electricity both work just fine.
To roast peppers in the oven, cut them in half and lay the cut parts down on a broiler pan. Broil approximately 6″ from the element for about ten minutes. Watch them carefully for when the skins are somewhat evenly blackened.
Using the stovetop is probably the most straightforward and easily controlled method of roasting peppers. Turn the gas or electric burner on medium-high. Place whole peppers directly on the burner. Turn them occasionally to achieve even blackening.
With a Food Torch
Torching peppers with a food torch is the quickest way to blacken the skins. The cooking of the pepper will be minimal, however, so this method should mainly be used for skin removal and artistic rendering rather than for flavor enhancement.
Place the peppers on a heat-proof surface. Apply the torch heat to all of the outside surfaces of the peppers.
Finishing Roasted Peppers
Whatever method is used, it is important to finish the peppers appropriately. As soon as the skins are blackened, remove the peppers from the heat and place them directly into a sealed environment. A Ziploc bag is an easy choice. By sealing the peppers while they are still very hot, you allow them to steam themselves. This step is essential in making the skins easy to remove.
After about ten minutes, remove the peppers from the sealed environment and remove the skins with your fingers. They should rub or peel off.
If you don't have time to roast peppers yourself and you are in need of a quick fix, you can always purchase roasted red peppers to add to your recipes.