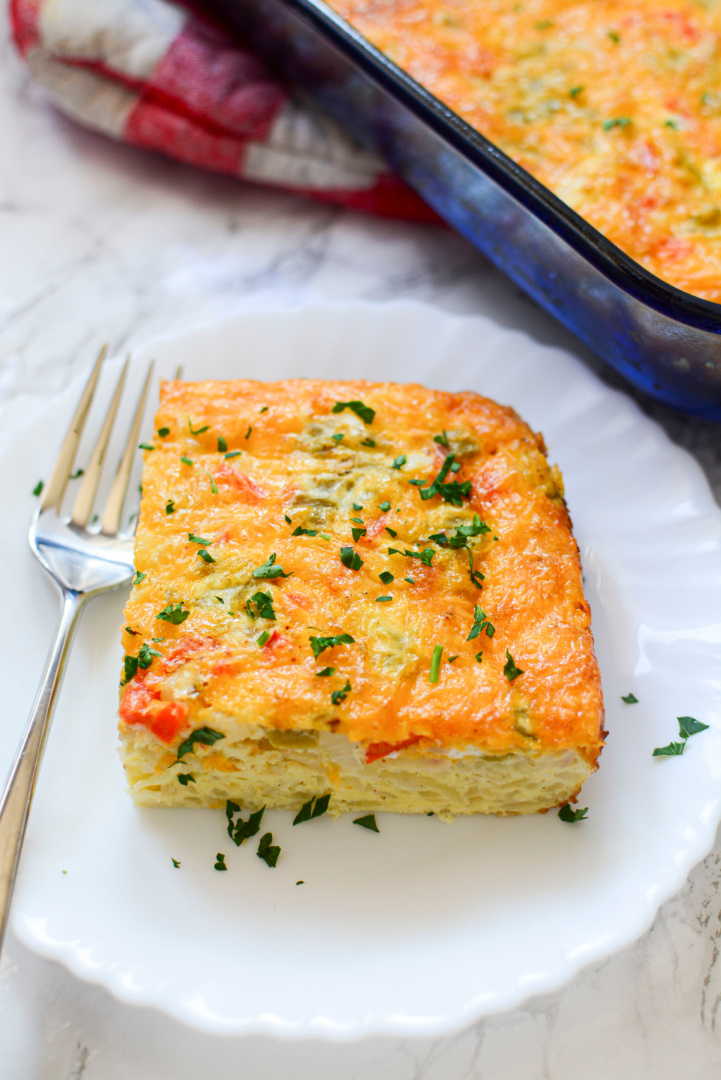 A Morning Fiesta: The Story Behind the Breakfast Casserole
Good morning! Today, we're diving into the heart of a breakfast dish that promises to start your day on a festive note, even before the sun fully wakes up.
Let's talk about the Fiesta Breakfast Casserole.
The first thing to appreciate about the Fiesta Breakfast Casserole is its rich array of ingredients.
The blend of textures, tastes, and colors not only appeases your palate but also paints a vivid portrait on your breakfast table.
1. Foundation of Flavor: Hash Browns
Hash browns serve as the foundational layer of our casserole. Originating from the "hashed brown potatoes" in American breakfasts, hash browns have been a favorite for many decades.
The crisp, golden brown exterior coupled with the soft inside makes it an undeniable breakfast favorite for many.
By using thawed frozen hash browns, we simplify the preparation process, saving time without compromising on taste.
2. The Veggie Trio: Onion, Red Pepper, and Green Chilies
The combination of onions and red peppers is classic, but the addition of green chilies elevates the flavor profile.
Onions lend their aromatic sweetness, while the red peppers provide a mild, fruity punch.
Green chilies, on the other hand, contribute a hint of zest and spice without overwhelming the dish.
3. The Backbone: Eggs and Milk
Eggs, nature's perfect food, act as the binding agent in this casserole, ensuring all the elements come together harmoniously.
The milk, besides adding a slight creaminess, ensures the casserole is moist and tender.
4. Seasoning to Perfection
Chili powder and cumin: two spices synonymous with warmth and depth. While chili powder lends a smoky undertone, cumin's earthy flavor adds complexity.
These spices, combined with the staple salt and pepper, make certain every bite is seasoned to perfection.
5. Cheese: The Melty Goodness
Let's admit it, cheese makes everything better.
The shredded cheddar in this recipe not only adds creaminess but also a tangy sharpness that contrasts beautifully with the other ingredients.
Plus, who can resist the gorgeous golden layer it forms on top?
6. Why Fiesta Breakfast Casserole?
In every culture, there exists a morning ritual or dish that captures the essence of its people.
The Fiesta Breakfast Casserole, while deeply rooted in the American breakfast culture, showcases a beautiful marriage of flavors reminiscent of the Southwestern palate.
This dish, versatile in nature, can fit seamlessly into any meal plan.
Whether you're serving it for a Sunday brunch with family, or prepping it as an easy weekday breakfast solution, it promises a satiating and delightful eating experience.
Moreover, casseroles, especially ones like these, are an excellent way to introduce a variety of nutrients to your morning meal.
Proteins from the eggs and cheese, carbohydrates from the hash browns, and a medley of vitamins and minerals from the vegetables make it a well-rounded meal.
In conclusion, our Fiesta Breakfast Casserole is not just another dish. It's an experience, a celebration, a dance of flavors in your mouth.
The beauty of it lies in its simplicity and the unpretentious way it brings together ingredients that might seem ordinary but combine to create something truly extraordinary.
Thank you for joining us on this culinary journey today. At Roscoe's Recipes, we believe in the power of food to connect, to heal, and to celebrate. Until next time, happy cooking!
Fiesta Breakfast Casserole
Ingredients:
1 bag (20 oz) frozen hash browns, thawed
1 small onion, diced
1 red pepper, diced
12 eggs
1⁄2 cup milk
1 can (4 oz) diced green chilies
2 cups shredded cheddar cheese
½ tsp chili powder
½ tsp cumin
salt and pepper
Directions:
Preheat oven to 350˚F and prepare a 9 x 13 baking dish with cooking spray.
Add hash browns to bottom of dish and sprinkle with salt and pepper.
Sprinkle the onion and red pepper over the potatoes. Add half the green chiles and about half of the cheese to the top.
In a bowl, mix the eggs, milk, chili powder, cumin and remaining green chiles.
Pour over the potato and vegetable mixture, then top with the rest of the cheese.
Bake at 350 degrees for 45-55 minutes. Check for doneness by inserting a knife in the center.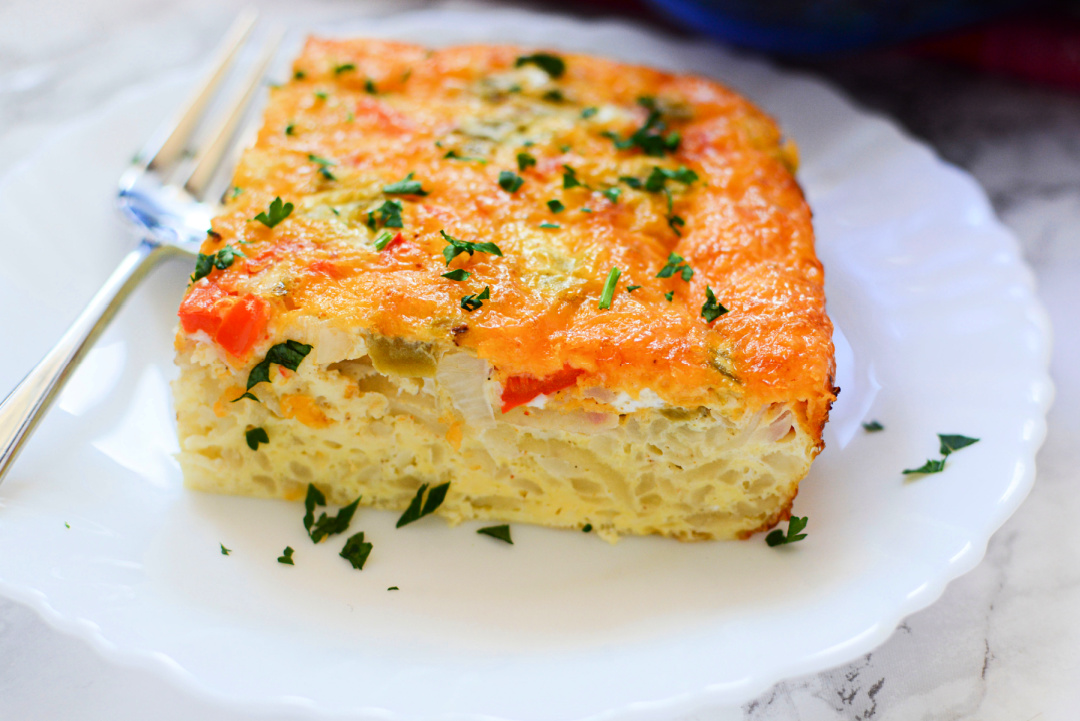 Frequently Asked Questions about Fiesta Breakfast Casserole
1. Can I make the Fiesta Breakfast Casserole ahead of time?
Answer: Absolutely. You can prepare it the night before, cover it, and refrigerate. The next morning, let it sit at room temperature for about 15-20 minutes and then bake as directed. It's perfect for those busy mornings!
2. I'm not a fan of cheddar. Can I use a different cheese?
Answer: Of course! Feel free to swap cheddar with any melty cheese like Monterey Jack, pepper jack for a spicier kick, or even mozzarella. Make it your own!
3. Can I add meat to the casserole?
Answer: Yes, you can. Cooked bacon, sausage, or even diced ham can be great additions. Just make sure to cook and drain any excess fat before adding them to the casserole.
4. What if I don't have frozen hash browns?
Answer: You can replace them with fresh grated potatoes. Make sure to rinse them in cold water and squeeze out any excess moisture before using.
5. How long can I store leftovers?
Answer: Leftovers can be stored in an airtight container in the refrigerator for up to 3-4 days. To reheat, it's best to use an oven or toaster oven to maintain the casserole's texture.
6. Can I freeze the casserole?
Answer: Yes, you can freeze the casserole either before or after baking. If freezing before, make sure to thaw it in the refrigerator overnight before baking. If after, just reheat in the oven until warmed through.
7. My casserole seems a bit watery. What did I do wrong?
Answer: It's possible that the vegetables released more moisture. To prevent this, you can sauté the onions and red peppers before adding them, and ensure the hash browns are thoroughly thawed and not overly wet.
8. Can I make this casserole spicy?
Answer: Definitely! Consider adding more green chilies, using pepper jack cheese, or even sprinkling some crushed red pepper flakes into the egg mixture for an added kick.
9. What can I serve alongside this casserole?
Answer: The Fiesta Breakfast Casserole is a hearty dish on its own, but it pairs wonderfully with fresh fruit, a green salad, or even a dollop of sour cream or salsa on top!
10. Can I make this in individual portions, like muffin tins?
Answer: Yes, that's a fun twist! Just adjust the baking time accordingly as they will likely take less time to bake than a full-sized casserole.
We hope this FAQ section clarifies any questions you might have about the Fiesta Breakfast Casserole. As always, don't hesitate to reach out if you have any more queries. Happy cooking!