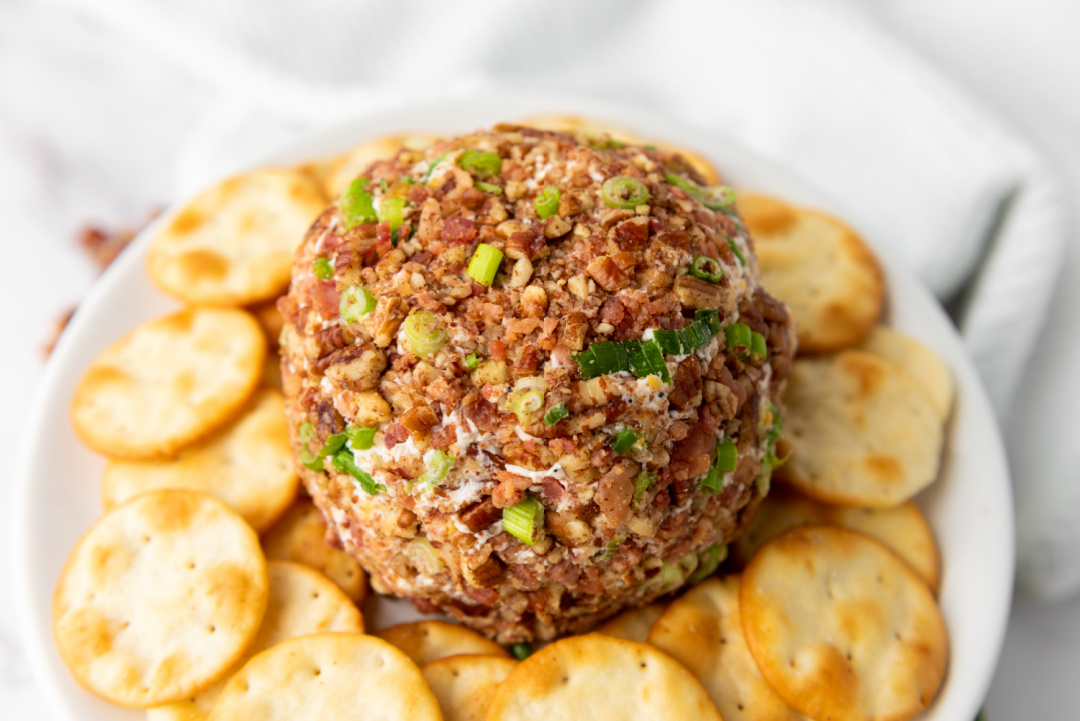 Cheeseballs, those quintessential party appetizers, have been gracing our gatherings for decades.
They are the epitome of simplicity and flavor, offering a tantalizing combination of cheese, nuts, fruits, and a variety of seasonings.
Today, we're exploring a particular variety: the Bacon Pecan Cheeseball.
An unassuming delight that's sure to add a different dimension to your table spread. But why should you consider making one?
Let's delve in.
First, let's appreciate the inherent beauty of the cheeseball. It's a multi-purpose appetizer, dessert, or snack that's flexible to fit in at any meal or occasion.
The Bacon Pecan Cheeseball is no different. Its versatility is one of its key selling points.
The sweet, nutty pecans combined with the smoky, salty bacon creates a flavor balance that pairs well with a variety of accompaniments.
Pair it with your favorite crackers for a quick snack, or set it out as an appetizer at your next dinner party, and watch it quickly disappear.
Another noteworthy aspect of the Bacon Pecan Cheeseball is its simplicity.
It does not require an array of complicated ingredients, nor does it demand professional-level cooking skills.
Instead, it's a straightforward recipe that anyone, regardless of their culinary prowess, can master. The primary ingredients are bacon, pecans, and your choice of cheese (cream cheese being a popular option).
Everything else is simply seasoning, tailoring the taste to your preference.
We shouldn't overlook the role of bacon in this dish.
Bacon, as we know, is a beloved food ingredient in numerous cuisines.
Its flavor is unique and universally cherished, with a remarkable ability to lift and enhance the taste of the foods it's paired with.
When added to the cheeseball, it offers an indulgent touch, resulting in a richer, more flavorful treat.
The saltiness and crunch of bacon contrast well with the creaminess of the cheese, providing a multi-sensory eating experience that's nothing short of delightful.
Pecans add a unique, nutty flavor and a crunch that works perfectly with the soft cheese and crispy bacon.
The pecan is not just an afterthought, but a co-star in this recipe.
It's not merely about texture; pecans have a sweet, buttery flavor that can hold their own against the powerful taste of bacon.
A further appeal of the Bacon Pecan Cheeseball lies in its presentation. When it's finished and sitting on a plate, surrounded by crackers or a variety of fruits, it's a sight to behold.
The toasted pecans studded around its exterior, the soft cheese peeking through, and the bits of bacon promising a tantalizing experience—every aspect of it screams 'delicious'.
This humble appetizer also allows for personalization.
Whether you decide to play around with the type of cheese, experiment with different spices, or even switch out the nuts for a different variety, the options are endless.
Perhaps you may want to add a sweet note with a dash of honey, or some heat with a sprinkle of chili flakes. The Bacon Pecan Cheeseball is a canvas for your culinary creativity.
In addition to all of this, the Bacon Pecan Cheeseball is an excellent make-ahead recipe.
It can be prepared ahead of time and stored in the refrigerator until it's ready to serve, making it perfect for those occasions when you need to plan your meal preparations in advance.
To sum it up, the Bacon Pecan Cheeseball offers a range of benefits: its taste is unique yet universally pleasing, it's easy to prepare, allows for customization, and presents well.
All of these reasons make it a worthwhile addition to your culinary repertoire. But more importantly, the process of creating a Bacon Pecan Cheeseball is just as enjoyable as eating one.
It's an opportunity to experiment with flavors, to be creative, and to take pleasure in the art of cooking.
Finally, the joy of sharing something you've prepared with love and care is the cherry on top of this delightful experience.
When you present a Bacon Pecan Cheeseball at your next gathering, it's not just a dish you're offering.
It's a piece of your culinary journey, a delightful blend of your creativity and skill, and ultimately, a gesture of your warm hospitality.
The Bacon Pecan Cheeseball is not just a recipe, it's an experience waiting to happen. Why not give it a try?
Ingredients:
8 oz. cream cheese
1 cup shredded triple cheddar cheese
½ cup bacon bits
½ cup chopped pecans
¼ cup sliced scallions
2 tbsp. milk (of your choice)
2 tsp. everything bagel seasoning
¼ tsp. onion powder
¼ tsp. garlic powder
Salt, to taste
Black crushed pepper, to taste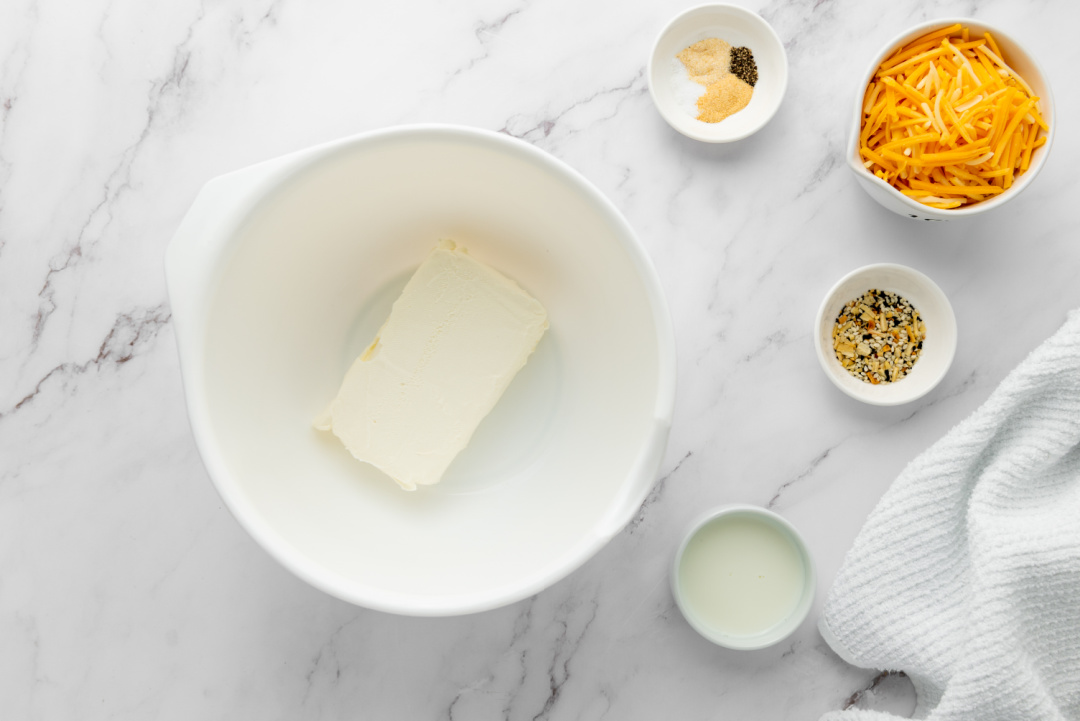 Directions:
In a medium-size bowl add the cream cheese, shredded cheddar, all seasoning, and milk. Mix with a hand mixer, until well combined.
Then add half of the bacon bits, half of the scallions, and half of the pecans. Make sure to chop those in smaller pieces first.
Put a piece of saran wrap on the counter and put the cheese ball in it. Then fully wrap it up with the saran wrap and form it into a ball.
Put the cheeseball in the fridge for 20 minutes.
In a shallow bowl, add the remaining chopped pecans, bacon bits and scallions.
Remove cheeseball from the fridge.
Roll the cheeseball around in the prepared shallow bowl and make sure the whole ball is coated with the remaining coating.
Serve with crackers, or anything else of your choice.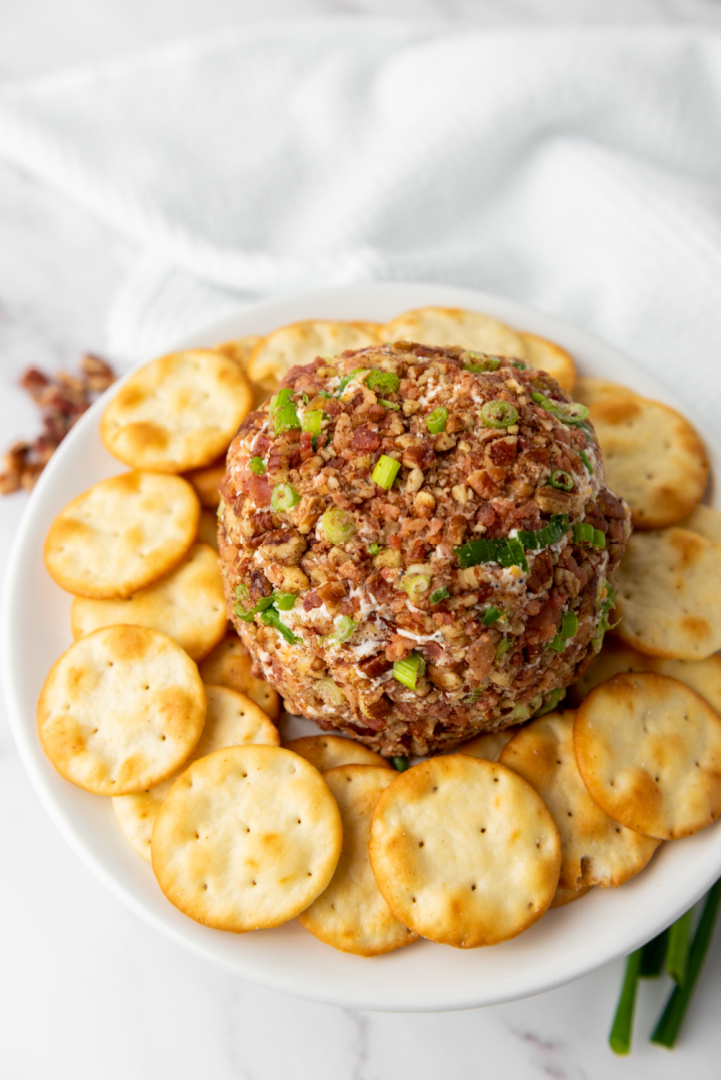 What type of cheese works best for a Bacon Pecan Cheeseball?
Cream cheese is a common choice due to its mild flavor and smooth texture. However, you can experiment with a combination of cheeses. Adding some sharp cheddar or smoky gouda could enhance the flavor profile.
Can I make the cheeseball in advance?
Yes, making it in advance is one of the key advantages of this recipe. You can prepare the cheeseball up to 2-3 days ahead of time. Just be sure to wrap it well and store it in the refrigerator.
I'm vegetarian. What can I use instead of bacon?
For vegetarians, you can substitute bacon with a variety of ingredients. Consider sun-dried tomatoes for a tangy flavor, or chopped olives for a salty punch. For a smoky flavor, you might try smoked paprika or chipotle.
Can I freeze the Bacon Pecan Cheeseball?
Yes, the cheeseball can be frozen for up to a month. Wrap it tightly in plastic wrap and then in aluminum foil before placing it in the freezer. When you're ready to serve it, thaw it in the refrigerator overnight.
What are the best accompaniments for a Bacon Pecan Cheeseball?
The beauty of the Bacon Pecan Cheeseball is that it pairs well with a wide range of accompaniments. Crackers, breadsticks, and pretzels are classic choices. Fresh fruits like apple slices or grapes can also complement the cheeseball's flavors.
Can I add other ingredients to the cheeseball mixture?
The Bacon Pecan Cheeseball is a recipe that welcomes creativity. Feel free to add finely chopped herbs, spices, or other flavors that you enjoy. Just remember to keep the additions balanced so as not to overpower the fundamental flavors of bacon, pecans, and cheese.
How do I get the perfect shape for my cheeseball?
Achieving the perfect shape for your cheeseball is a matter of patience. Let the mixture chill in the refrigerator for a while to firm up, then shape it using your hands. If it's still too sticky, a little bit of cold water on your hands can help prevent the mixture from sticking.
I don't like pecans, can I substitute them with other nuts?
You can replace pecans with other nuts. Almonds, walnuts, or even pistachios can work well. Just ensure you toast them lightly to bring out their flavor and add a nice crunch.
My cheeseball is too soft. What did I do wrong?
A soft cheeseball may be due to not enough chilling time. The cheeseball needs sufficient time to firm up in the refrigerator before serving. If it's still too soft after chilling, it could be due to the type of cheese used. Cream cheese is typically firm enough for a cheeseball, but if you've used a softer variety, that might be the cause.
I'm on a diet. Can I make a low-fat version of the Bacon Pecan Cheeseball?
You can tweak the recipe to make it more diet-friendly. Use low-fat cream cheese. You can also opt for turkey bacon, which is leaner than regular bacon, or even lean ham. However, keep in mind that modifying the recipe can alter the flavor and texture.