Are you wondering, "What can I make with chicken livers?" Try this Chicken Livers Peri Peri recipe!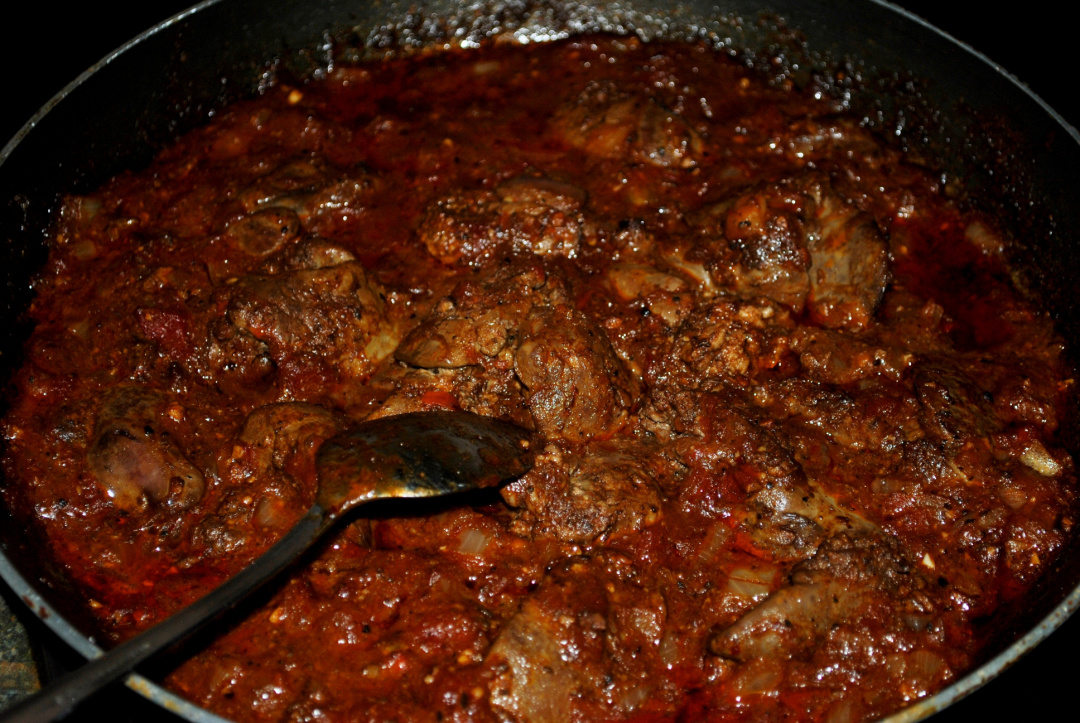 When you think that chicken is the most eaten meat in the world, you realize just how many chicken livers there must be! The days of finding a little plastic bag inside the chickens we buy tend to be a thing of the past, but when we did have them, how many of us utilized those little delicacies within the bag – the liver of the chicken?
All our supermarkets sell chicken livers, either fresh or frozen. These are so cheap, but they are ignored by so many people simply because they don't really know how to use them.
However, chicken livers are an excellent meat product to include in your diet – apart from the fact that they are really, really inexpensive – they are low in fat and calories but high in protein, iron, and vitamins – especially vitamin A.
There are so many people who have never tried chicken livers, some because they just can't imagine eating them and some because they just don't know how to use them; but they really are very easy to use and make a really quick meal – either as a starter or a main course.
They are perfectly quickly fried and lovely with bacon – just wash and drain the livers, season well and fry in a hot frying pan (skillet) in oil (or preferably bacon fat) for a few minutes until all the pinkness is gone – how easy is that! What is very important to remember when cooking chicken livers is that they WILL taste dry and bland if you cook them too long, serve them when they are still lovely and moist inside.
It is as a starter or appetizer where chicken livers really come into their own; they make an excellent, quick and easy pate, they are delicious cooked wrapped in bacon, they make a perfect mousse – the list is virtually endless.
If you are looking for a REALLY tasty and oh-so-cheap appetizer recipe that is both low fat and delicious, do try this excellent little recipe – you won't be disappointed!
Chicken Livers Peri Peri
Serves 4 as a starter or appetizer
Ingredients
    300g chicken liver
    1 onion finely chopped
    4 cloves garlic, crushed
    2 red or green chilies, de-seeded and chopped finely (or ½ teaspoon of dried chilies.)
    1 tomato, chopped
    1 teaspoon of peri peri powder (or cayenne)
    1 teaspoon Worcestershire sauce
    1 tablespoon of tomato puree (paste)
    100ml chicken stock
    Salt and freshly ground black pepper to taste.
    Low-fat spray
Method
1. Spray a large frying pan (skillet) with low-fat spray, add livers, salt & pepper to taste.
2. Sauté until chicken livers are cooked but do NOT overcook; they need to be a little pink in the middle as they will be re-cooked later, remove from pan.
3. Using the same pan and juices, fry the garlic, chilies, and onion until soft, add the tomatoes and fry for a couple of more minutes.
4. Add the rest of the ingredients and simmer for about 5 minutes; if the sauce is too thick, add a little more stock.
5. Check to taste the sauce and add more chilies if you prefer it hot.
6. Return the chicken livers to the sauce and let it simmer for one or two minutes or until livers are fully warmed through.
7. Serve immediately with salad.
I do hope that I have persuaded you to try this inexpensive delicacy; I am sure that you will be converted once you've tried it.